I admit I didn't know much about the situation in Steubenville until I started reading the coverage of the verdict. I tend to be a bit out of the loop and maybe people have been talking about it for quite some time and I had no clue. On Tuesday, I listened to the audio of that leaked video of some kid making light of the incident. I don't know how to add that video to a post, but Google it if you're interested.
I have a pretty strong stomach but that video was disgusting. The kid talking in the video should be ashamed of himself and the person who shot it should have stopped and told this kid how sick his comments were. He joked about someone he knew being raped and urinated on. He compared her rape to other assaults we've heard about in the news and have seen in movies. Clearly something about the forceful penetration and degradation of another person is funny to him. I don't understand that at all.
When I got home from work on Tuesday, I was greeted by the sweet face of my 6 year old son. It occurred to me that these boys involved in this crime used to be 6 years old. They used to be someone's sweet faced little boy. So what happened? What changed that? Whether those boys changed that day or in the years leading up to the incident isn't relevant. Something inside these kids malfunctioned and their red flags didn't go up that something was wrong.
I'm not blaming their parents or anyone for that matter. But what I am saying is that it occurred to me that if I didn't start talking to my son immediately, I would be part of the problem.
And that's when I decided to sit my son down and talk to him. More or less, here is what I said to him:
Nathan, what I'm about to tell you is very important and I need you to understand. I need you to tell me if you don't understand and ask me questions if you have any.
It is never, ever OK to hurt other people. It's never OK to touch another person's body if they don't want you to. I know that you know this already.
But what I want to make sure you know is that it's also not OK to let those things happen to someone else. If you know someone is being hurt or touched, you need to tell me. Even if you think you'll get in trouble, you will never get in trouble with me for that. Even if you're embarrassed or scared or sad or mad, you need to tell me. Because someone being hurt is so wrong that a grown up needs to know.
Even if your friend tells you something and makes you swear you'll never tell, you need to tell me. Even if a grown up says if you tell you'll get hurt, you need to tell me. I will never get mad at you for telling me the truth, especially if it's because you are worried about someone.
Also, we do not laugh at other people being hurt or made fun of. If you don't want to tell your friends to stop laughing at something like that, I understand because that is hard to do. But you tell me. And if you can tell them to stop, that's even better. I don't care if you don't like the person they are laughing at either. It doesn't matter. You don't have to like everyone, but you do have to be respectful of everyone. We are all people and none of us deserve to be hurt or made fun of.
When I asked if he understood, he said he did. His only question was to ask why I was telling him this. So I told him two boys hurt a girl in their class very badly and will go to jail for it. But lots of other kids knew about it and laughed about it. That poor girl did not deserve that. It was mean for those boys to do and it was mean for kids to laugh at her because of it. It was mean for people not to believe her when she said she was hurt.
I told him that I know he's not a mean boy, but I know it is easy to get confused when all of your friends think something is OK or think it's funny. I told him that if his heart or his brain told him something wasn't right, he needed to talk to an adult about it.
I don't know if I said too much or too little, but I couldn't not talk to him about it. He may only be 6, but someday he won't be and I don't want him making mistakes because we didn't talk about things. I don't ever want him to be mixed up in something like this and I'm not so naive as to say my boy will never make mistakes. I'm sure the parents in Steubenville never thought their boys would end up this way. Maybe they had talks with their sons like I did but this still happened. I just don't know.
The world scares me sometimes and trying to steer my son in the right direction seems an overwhelming task. But I'll keep trying and I'll keep talking. I hope he keeps listening.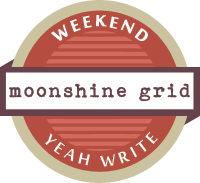 Hanging out over at the weekend moonshine grid with my favorite Yeah Write people. Head over, I'm sure you'll find something good to read.