My eyes have been twitching for nearly a week now. It's mostly my right eye, but every now and again my left one freaks out a bit.
I have two theories:
One is that I'm tired. Between how I was out
galavanting
the other night and how I've been staying up late reading blog posts and doing blog link ups, I am not getting enough rest. I mean, I don't get enough sleep on a regular night when I'm crashing by 9:30. I really have no business being up until 1am when I need to be up at 5:30am.
The other theory is that I'm stressed. I should point out that I'm painfully aware that I have been stressed out over one thing or another since you met me. It doesn't matter which of you is reading this and how or when or where you met me, chances are I was stressed when it happened. Chances are also that I told you so. I'm sure I at least told you I was tired. See my first theory above.
So the stress. Someone told me I shouldn't. Stress that is. I don't think I've ever not been so I almost feel like there's no chance I ever won't be. Sometimes trying to relax makes me feel like I could have a panic attack. I know. I'm a mess.
I wish I could not stress. Some of it is work stress. It would be in poor taste to give details, but suffice to say it's busy and there's a lot going on. I realize this is true of most jobs. My husband jokes (at least I think he's joking) that it's the busiest time of the year at my job for 365 days straight. But the last few weeks? Ugh. I need a vacation from my life so I can catch up on work stuff.
Some of the stress is just the day to day of family responsibilities. Again, I know, I only have one child and I have a husband. I shouldn't complain because I have a good situation and many people don't. However, I have responsibilities and a house to take care of and a kid that keeps wanting to eat stuff and a geriatric dog and, and, and... You know how it is. We all have it. Sometimes it's overwhelming. The farthest I've gotten on my Spring Cleaning to-do list was writing the list. I need a vacation from my work so I can catch up on house stuff.
And then there's the writing. I don't want to call it stressful lest you tell me it's "just a hobby" and I should stop. It isn't and I won't, but it takes up a lot of time. I'm trying to become the Queen of the Blogoverse (that's not true) and I've been reading a lot of other bloggers (I call this research). I've been doing things to promote my blog and I've been writing tons of posts. I think I have at least a dozen in some stage of editing. And here I am writing another instead of getting those finished.
As if all this blogging wasn't enough, I'm also working on a memoir. It's not light subject matter - my mother's illness plus other fun trauma - but the words need to find their way out of my head and onto paper (or a screen, as the case may be). I'm sure it will be years before it's even remotely publication worthy, but it has to start somewhere. Some of the pages I write though, they wipe me out. I'm thinking about scenes from childhood I haven't thought about since childhood. I need a vacation from work and life to get more writing done. And then I'll probably need a vacation from the writing.
At night, when I finally go to sleep, I dream about work, writing, blogging and in-person interactions with the people on Twitter that I don't actually know in real life. When the Twitter dreams happen, the people all look like their Twitter pictures, so their heads don't move. And the people who have pictures or drawings instead of faces, they look like their icon in my head. Most of these dreams involve me frantically trying to get things done and always being behind schedule. So basically it's like I'm still awake except I'm horizontal for a while.
Oh, did I not mention that part of the reason I can't get stuff done in my dreams is that I'm in bed out in the world? Like, my bed is in my office or at the grocery store or whatever. The bed dreams are always such a huge stress indicator. And there's nothing worse than being in your bed some place completely inappropriate and not being able to get stuff done. My stress dream stresses me out.
So it's no wonder my eye won't stop twitching. At some point I will crash and it will be epic. Nervous breakdown, sick as a dog, I'm only going to watch 25 episodes of Hoarders on Netflix Instant sort of epic. Maybe that's what I need - an epic crash.
Not sure when I can fit it in though. Let me check my calendar...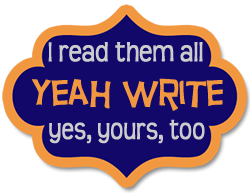 I'm linking up again with Yeah Write. For a limited time only, you can link up, too! Please click the badge above to read the others. Vote for me (one time only!) and your 4 other favorites (maybe more, depending on the number of entries). I'll let you know via Twitter and Facebook when voting opens. Thanks!
~~~
Thanks for reading! If you find me at all amusing, please consider following this blog. You can also share it with your friends on Facebook and Twitter. There are icons for that around here somewhere...