"Mrs. Longo? I have some papers for you to sign."
I was thankful for a reason to leave the room. It had been hours since I'd grown weary of the competition between the incessant and rhythmic whooshing of the ventilator and the erratic beeping of the blood pressure monitor. The woman in the burgundy pantsuit and sensible shoes stood just outside the door, holding her clipboard close to her chest.
"We need your signature authorizing us to remove life support. Do you understand your decision?"
"Yes. I shouldn't even have to make this decision, though," the bitterness in my voice seemed to catch her off guard.
My face flushed. I looked at the ceiling, hoping the tears filling my eyes would just sink back into my head.
"I know, honey, it's hard," she said as she stood there. Her eyes gave away that she wished she was anywhere else. At least we had that in common.
"No, you don't," I huffed as anger forced down the sadness. "She had a Do Not Resuscitate. It's supposed to come with her every time she comes here. Someone resuscitated her. Now it's on me. It's always on me."
I wiped a spilled tear on my sleeve. I inspected the ceiling once more while the hospital social worker continued to just stand there, waiting for me.
"I don't want her to know I did this," I said, my tone hushed as if the woman whose life I was taking could hear me over the racket her machines were making.
The social worker nodded. I hadn't even really been talking to her, so her confirmation of collusion meant little to me.
"Where do I sign?" I motioned for the clipboard.
"Oh," she fumbled to turn the page to face me and handed me a pen. "Here, here, and," she flipped to the next sheet, "initial here."
Michelle F. Longo.
Michelle F. Longo.
MFL.
Done.
I handed her back the clipboard. She half-smiled that smile people give you when they don't know what to say because you just effectively killed your own mother.
Once the clipboard left my hand, the floodgates opened and I could feel my body starting to shake. No amount of ceiling staring was going to stop this. The woman extended her arm, aiming to place it around my shoulder. I shuffled outside of her reach just in time.
Don't you dare try to hug me.
I went back inside my mother's room and sat in the bedside chair. My gaze turned to the ceiling.
Sadness to anger to guilt, round and round and round.
Whoosh. Beep. Beep-beep. Whoosh.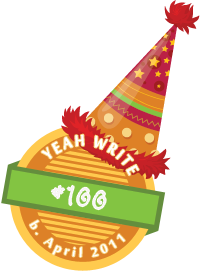 I love round numbers, so I'm very excited to participate in Yeah Write #100. Click on the link to read the work of bloggers who write and writers who blog.