I sat there admiring my handiwork. Four straight lines, parallel to one another, each one with just a few beads of blood. They hurt far worse than they looked, the pain giving me an odd sense of pride.
I had to stand up. I had been sitting on the couch with my legs curled beneath me for too long and both were now asleep. I grabbed the knife and the bloody paper towel from the couch and began limping towards the kitchen. Mom would be home soon from my brother's karate class and I needed to clear out of the living room before she got there.
I hated our steak knives. They had brown handles that were asymmetrical and roundish. The brown was dark, with flashes of red placed haphazardly throughout. My mother claimed the dark brown, like all of the other dark brown decor of our house, was "the Spanish style." I thought it just reeked of the 1970s. She'd argue with me that it was popular when she and Dad got married and that she wasn't about to replace everything in our house because styles change. The Spanish style was classic and would always be popular.
The knives were serrated. Mom said that meant they'd never need to be sharpened. She said they were good knives, expensive knives. It seemed stupid to me that of all the shitty things we owned, the only good, expensive thing we'd have would be ugly knives.
My arm was starting to throb. Each slice was swelling just around the edges. The blood was already drying. I rolled down my sleeve gently and flexed my fingers.
I'd read of people who cut themselves and said they did it so they could feel something. I felt lots of things; I really didn't understand needing to hurt myself to feel. I did see the value in hurting myself to feel physical pain to take my mind off the throbbing ache in my soul. Maybe that's what they meant.
The next day, I made sure to wear long sleeves. I didn't want to talk about what I had done. There was nothing to say. People would either understand or they wouldn't, and I didn't want to find out which side they were on. Most of my friends already thought I was being dramatic for attention. I didn't want anyone to think I did it for them to notice. I didn't want anyone to think it was cool or mysterious or dark or weird. I didn't want to be labeled.
I didn't want people to think about me at all.
Within a few days, the cuts scabbed over and itched. In a moment of weakness, while changing for gym class, I scratched at them and one started to bleed. I blotted it with a crumpled tissue from my locker. I wasn't paying attention to the classmate changing next to me. She wasn't a close friend. I'd known her too long to call her an acquaintance but like most in our small town and ultra-small high school, we were friends at some point and by that time we weren't really friends anymore.
She looked at my arm, eyebrows raised in curiosity. "What happened there?"
"My cat scratched me," I said. I finished dressing, turning my back to my once-friend.
"They don't look like cat scratches," she said, her skepticism apparent and insulting.
I grunted and walked away, carefully pushing my sleeves back down, hiding my scars, if not my wounds.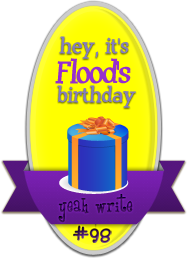 Linking up with Yeah Write once again. Please head over and check out the other blogs. If you feel so inclined, read them all then vote for 5 favorites on Thursday. Also, it's the birthday of one of Yeah Write editors, so Happy Birthday Flood!!
Edited to add... This post placed 3rd on the challenge grid. Thank you to everyone who read and voted.