I've always been plagued with nightmares and ultra-vivid dreams. My mind never shuts off. Sometimes I don't understand the unsettling particulars of my nightly visions. Other times they provide a clarity I cannot conjure while awake.
I was at a party with friends. There were old friends and new, close friends and those who once were close, all attending this massive party in some far away hotel. There were some people I'd never met before and I was intrigued by them. The atmosphere was strange with some guests swimming and others in pajamas. As I circulated amongst the crowd, I never felt like I belonged there. I wanted to go home.
When it was finally time to leave, we exited the only way we could. There was a subway beneath the venue and like a herd of cattle we all made our way toward it. I didn't remember how I had gotten to the party, so I was confused by the path home. But I followed along, doing what the others did. It started out calm, but the cars soon changed into the kind you see in a cartoon about people going into a coal mine. And from there, the scene was of a roller coaster you'd see in a Dr. Seuss book.
The cars raced down the track as it twisted and curved, looped and dipped. We were thrown about in our seats, screaming as the ride propelled us forward. The car jumped spaces in the tracks, went underwater and spun around in impossible ways. When it reached a platform where we could exit, I was relieved. Everyone seemed to be having fun except me. Again I felt uneasy.
I stepped out of the car onto the platform. There was a raging river before me. Those ahead of me were boarding their rafts and excitedly beginning the next leg of the journey. I looked around. How could this be? This wasn't right. I seemed to be the only person concerned.
Shouts to "hurry up" and "move it along" were coming from all angles. But I didn't want to raft home. Surely there had to be another way. Suddenly two arms wrapped around my leg, excitedly calling my name. My son was there with me and I had to get him home now, too. This was no longer just self-preservation.
The river was wild, white water rushing onto the platform making it difficult to even get on the raft. There were no life vests and no ways to hold on. The teenager working this platform told me I needed to get into my raft.
This was too unsafe for an adult, let alone a six year old. I refused and more people were yelling at me. I tried to find some other way, but there was none. No ladder to climb down, no way off the platform. I couldn't go back to the party, the subway only moved in one direction. The only way was this unstable raft on a treacherous river.
I had no choice but to go forward, but I was paralyzed by fear.
I'm awake now, still standing on that platform and unable to move.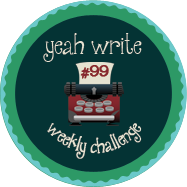 Linking up with the amazing crew over at yeah write. Please join us, read the entries, vote for five favorites on Thursday. You won't regret it, I promise.