When what you have to say to someone is simultaneously everything and nothing at all, sometimes the best course of action is to avoid the person altogether.
****
At least half a dozen wedding responses were waiting for me when I checked the mail. I flipped through them, stopping on one with no return address. I opened that one first, anticipation coursing through my fingers, only to find an X was placed next to Will Not Attend and the bottom was signed "Dad and Dolores."
I turned the card over, looking for a note, an explanation, an apology, but there was none. The envelope held nothing further. I fumbled for my house key, desperate to get inside. I knew they didn't have another commitment. I knew they just didn't want to be at my wedding.
I tossed the other responses onto the kitchen table with the rest of the mail and headed into the bedroom to find my phone book. His number and address were listed formally by last name-comma-first, giving no indication to an outsider that he was anything more to me than the neighbor whose information was on another page.
The distance between us had been considerable, having only connected intermittently over many years of estrangement. This last time he sought me out because he had done the math and deduced that at twenty-four I must have been out of college thus ending his responsibility to pay child support. My mother had never notified the probation office and had continued cashing his monthly $25 checks firmly believing he owed her so much more than that. Much to my mother's dismay, I agreed to write a letter affirming my graduation and the cessation of his obligation.
After that call, we spoke a few more times. I told him about my life. I thought he was happy for me.
When I included him on the guest list, I imagined he'd walk into the wedding hall and I could tell my friends, "Look! That's my dad!" I pictured him hugging me and telling me I looked beautiful. I thought maybe he might dance with me.
I pictured him showing a friend the photo from the thank you card I would send him and saying with pride, "My baby got married and the wedding was wonderful!"
My stepmother answered the phone and curtly told me to hold on. When he got on the line, I told him I received his response.
I assured him no one would enforce the fifteen year old restraining order. I told him he could sit with my future in-laws or, if he'd prefer, near a wall since I knew his time in Vietnam left him uneasy in an open room. I told him I'd sit him anywhere he wanted if only he'd reconsider.
"I can't do it, Babe. I just can't. I hope you understand," he said flatly.
I bit the inside of my cheek. "I don't," I said, hoping he didn't hear my voice crack.
He finally broke the silence, "Will I ever hear from you again?"
"I don't know."
I hung up, honestly not knowing the answer to his question.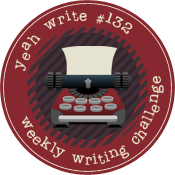 Submitting this post to the challenge grid at yeah write. Come check out the most supportive community for blogging writers you could ever hope to find.