Last time I was there, I fought desperately with the paper gown to stay closed over my ample figure. This time, after checking my weight and calculating my BMI, the nurse grabbed a gown from the XL drawer, not the L. I am on the fence about whether or not this was a better outcome. But at least there was still a little overlap and less risk of potential exposure.
I checked the status of the Band-Aid in the crook of my arm. The phlebotomist wasn't the worst I've ever had, but she wasn't the best either. There was no blood to be seen, but I contemplated the anticipated future bruising based on the pain of the needle stick and the seemingly endless amount of blood that was drawn. I tried to count the days until I should expect the results, but my brain couldn't handle the calculation due to the 14 hour fast I was wrapping up.
I put off this physical for far too long. Like many people who actively skip seeing a physician, I just don't want to know. At the same time, I can't ignore the warnings about early detection of illness being one of the best weapons against it. Lately, it seems like every time I turn around, something else hurts. As I'm beginning yet another thrust toward better health, it seemed like making my appointment was a good place to start.
I have no reason to believe I'm sick, and yet, I have no proof that I'm not. I can take all of the tests in the world today and tomorrow could be the day it all goes down hill. I try my best not to think that thought, but sometimes, when I'm not vigilantly fighting it off, it creeps in.
I told the doctor about all the things that concerned me. Careful watch of her expression told me when I started to sound confusingly crazy. She told me everything seems fine. She told me to work on the weight problem. She told me to rest my broken toe for a few weeks before I run on it again, but to find ways to exercise around it. She told me to get a mammogram. She told me they'd call me soon with the blood test results.
She told me not to worry.
I don't want anyone to have to take care of me. I don't want to be a burden. It's not the being sick that scares me. It's not even the idea of dying, although maybe a little. Mostly, the thought of needing others for every facet of my survival is my undoing. I've seen first hand what a chronic illness can do to a family and it's not what I want for mine.
What if all of my aches and pains aren't just those of a fat, rapidly-approaching-middle-aged woman? What if they are something worse? I know the "what ifs" aren't healthy, but living in denial isn't either.
For now, I sit by the phone and wait, not exactly patiently.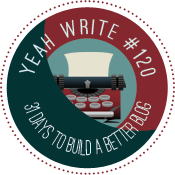 So happy to be getting back to my friends at
yeah write
after a 2 week break.