I'm depressed again. I realized it a few days ago. I thought I was just tired, but then there was what should have been a slight disappointment that actually felt more like a devastating blow. I cried about nonsense that I knew was nonsense but cried anyway. I didn't feel better after I cried and that's when I knew.
And just like I knew I was depressed I know that it will pass. I need to ride out this storm and it will all be over eventually.
I yelled at Nathan the other day. He acted poorly, I asked him for some space and when he not only didn't go into the other room like I asked but acted even more poorly, I lost it. We've been talking a lot about using our words when we are upset and need space. I used my words and he didn't respect them and I yelled at him. A rational woman would have had better control. A rational woman would not have expected a six year old to respect her need for space.
I don't want to feel this way. I don't want to yell at my kid. My mother used to yell at me like this. I'd do something that I knew I wasn't supposed to do, I'd push buttons, and she'd blow. She'd explode on me in a way I didn't deserve and was excessive considering the infraction.
I was watching TV later that night and one of the characters had to attend the funeral of his father. He turned and looked at the casket and the reaction was one I understand so well, that feeling when you fully realize that your parent is dead. There in a box, or in my case a marble urn, just utterly and completely dead. No longer alive to complain about, or hope someday things will be better, or to see as a burden, or any of the other feelings one could have when a father/son or mother/daughter relationship is complicated beyond measure.
There's a certain comfort in the norm, in the same-shit-different-day life with someone. Even though it may seem like it won't ever end, at some point it does. Things change. People die.
I watched the guy on the sitcom come to terms with his newly dead father by the next commercial break. I remember sobbing in the church at my mother's funeral, feeling completely gutted. To this day, I do not know why I was crying. I guess it was 34 years of cut-short sobbing that flowed forth, unstoppable, a culmination of everything. To see this guy look at his father's corpse, feel the gutting and get over it so quickly and neatly, it didn't feel genuine to me.
I wish I could say I'm depressed about my mother and so I yelled at my kid, but it's not that linear. The depression, the yelling, the grieving, they all happen in swirls around each other, connected, but no one causing the other. Of course I can see how my relationship with my son conjures up unresolved feelings about my relationship with my mother. How I use what I know to not screw it all up, to not do more harm than good, that escapes me. Keeping the past in the past, being the mother he needs amid the uncertainty of the future, that's the difficult thing.
Sometimes I'm still standing in that church, gutted, wondering where I go from here.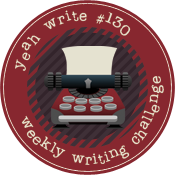 Joining my pals on the yeah write grid again this week. Stop by.