Things have been nutty around here lately. I've been stressed and I've had a lot on my mind that I could not share with the public at large. If you have found my behavior, tweets, and Facebook status updates to be a bit odd, there was a reason for it. And today I'm ready to make an announcement.
After just over five and a half years, it's time to make a change. About two weeks ago, I resigned from my job. Monday is my last day. I start a new one on Wednesday. I'm excited, but nervous. And there are some things I'm going to miss about my old job.
For example, I'm going to miss going into the office wearing an outfit I could also sleep in. For the record, I never went to work in the PJs I slept in the night before. I'd always change into a different set of PJs. I'm classy like that.
At my old job, I could put my hair back with a binder clip and no one cared.
When I'm in the office at my new job, I will have to dress like a professional. I used to do that every day, so I hope it's like riding a bike.
The good news is I'll be telecommuting some of the time, so the jammies and binder clips won't feel completely slighted.
I will miss the familiarity I had with some coworkers. I will miss being so comfortable with my office mate that when I inevitably fell out of my cubicle she would just laugh instead of asking me if I'm OK and making me feel like a dummy. Sometimes I'd even get a "what did you do now?" to let me know just how many times she'd noticed I had hurt myself that day.
At the new job, I'm going to be inclined to wear heels (because all of my pants are too long and getting them hemmed is really a lot of work) and the likelihood I'll trip over the floor is even higher when I'm not wearing sneakers. Or Uggs. Or slippers. Not that I've ever worn slippers to the office. It's only a matter of time before half the office sees me fall.
But if I lived through the embarrassment of having the most ridiculous and uncontrollable coughing fit during the interview, one which necessitated the person I'll be reporting to having to leave the room to fetch me water, then I suppose I will live through the first time I face plant into someone's cubicle wall because I'm not watching where I'm walking. I'll probably live through the second and third times, too.
I won't be able to swear and I'll need to curb the sarcasm. I will need to appear to be a normal, well-adjusted grown up. I cannot, as they say, fly my freak flag so proudly. If I do, people might not take me seriously.
And I do want to be taken seriously because I am serious. (OMG, seriously? I'm totally serious!) I am good at what I do, in spite of the swearing, the sarcasm, the binder clips, the falling down and the PJs.
I probably won't write any more about my new job than I wrote about my old one. For one thing, it's still in the insurance industry and trust me when I tell you that you do NOT want me to start talking about insurance. Unless you have severe insomnia, then I might be able to help you nod off. But also, as rich and colorful as some of my office tales may be, it would be inappropriate to write about work stuff.
Hopefully the learning curve won't be so bad that it will disrupt my writing schedule (hey, how's that for sounding totally unprofessional before I even start the new gig?). But if I step away from the blog for a little while, at least you'll know why.
So wish me luck on my new adventure and, if you've got them to spare, send me some good vibes next week.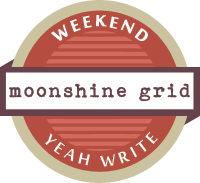 Linking up with the weekend grid over at yeah write. Head on over for some good old weekend reading.