I am going to be honest and tell you that I don't know how to write a recap post. This blog tells my stories, so that's what I'm going to do here. You and I both know that the internet will be flooded with recaps that will actually do the speakers justice, so you can check them out when you're done here.
You're not leaving yet, right?
Type A was my second conference ever. My first was one of the larger conferences and, while I got quite a bit out of it, it was too big for me. I'd been told that Type A was more intimate, more of a community, but seeing truly was believing on this one. The people, my goodness
the people
I met, made this such a wonderful experience that when I was in my room on Sunday night after the last party, I cried because I was leaving a new community that I'd come to really love in the previous few days.
I have a pile of business cards from wonderful people and a whole new group of blogs to check out. I heard some great stories and I look forward to reading more from these writers. I got better at telling what my blog is and passed out a few cards of my own. If you're here for the first time, please do leave me a comment and say hi. That would make me so happy.
I have pages and pages of notes to read through. I attended wonderful keynotes and panels and a hands on workshop run by amazing people. I'll give you a list at the bottom of who inspired me. The message that I kept hearing, because I really do believe that we take away from these things what we need to, that message was to write. To write it out. To tell my story. I need to tell it. I need to write. Followers will come (and go, but that's OK), I may not have sponsors or paid gigs or receive free stuff and that's OK, too. I need to write.
I NEED TO WRITE.
And no one can make that happen but me. No one will take it more seriously than I do. No one is going to move schedules and juggle responsibilities to get the writing done. No one.
Michelle, no one cares about this like you do. Sit down and write that story.
Over and over, it was as if the speaker was looking right at me and telling me to prioritize, to really think about what I'm doing and where I'm headed and to write. That's a lot to take in over the course of a few days. My head is still spinning and my plate is just as full as it was when I left. And the writing will get done. It will get done.
I'd love to tell you that all of the inspiration caused me to run out and get myself a tattoo. It might have, but I beat it to the punch and got the tattoo first. I had wanted a third tattoo for a long time, but there was a long list of reasons why I didn't. Notice I didn't say couldn't. I didn't. But this weekend, I did.
Across the side of my right foot, I had myself inked with these words. So now, every single day, no matter what else is going on, the reminder is there to just write. To just sit down and write and the words and the story will come out. No one is going to remind me the way I can remind myself.
So that's it. That's what I have to say about the conference. I recommend it, the content, the speakers, the organization of it all, fantastic, wonderful, amazing. It was worth my time, my money, my energy, missing my family, having to wait 24 hours to watch the series finale of Breaking Bad. All worth it. I plan to go next year. I plan to leave more room in my suitcase for takeaways and wear some warmer clothes, but that's it on my advice to you.
So which speakers really spoke to me? Here goes, in the order I saw them:
This isn't to say they were the only good, and I know just saying that I thought they were awesome isn't enough and they deserve better, but it's all I have, what with my swimmy-brain and exhaustion and all.
Ooh, one other thing. If you're reading this and you are one of the lovely people I hung out with, spent time with, chatted with, please know you left an impression. Your words, your passion for your subject, your life, your advice to me, all of it mattered. There are too many to list and I would forget someone and feel just terrible about it. But I want you to know, if we spoke, even briefly, I'm grateful you made the time to chat with me. Thank you.
When all is said and done, when I'm back sitting on my couch thinking on the weekend I just had, it comes down to this:
If you have a dream, go do it. That's it. It's that simple (yes, and that hard, but that's not the point here). No one will make your dreams come true for you. Go make yours happen. I'm going to go work on mine.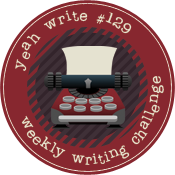 I'm adding this to the yeah write challenge grid. If you're new here, click the badge above to be taken to one of the most inviting writing communities around.