I thought the only thing standing in my way was high school. If I could make it to graduation, I'd be set. I was already 18, I just needed the diploma. Then I could do whatever I wanted. I wouldn't need to answer to anyone because there would be nothing stopping me from making my own decisions. I could move out, get a job, be independent. I would never need anyone for anything ever again.
The final half day of school was a mix of emotions. I knew I'd miss some friends, but the lure of my new life was enough to keep most of my feelings at bay. My excitement won out for the most part and I could barely sit there and watch these teachers and school administrators tell me where to sit and stand and what to say. It was their last day to do that, so I gave it to them, acting as respectful as I could under the circumstances.
I headed home to get ready for the ceremony which was to be held at the town football field a few blocks from my home. My family, boyfriend, and a few friends planned to attend, then we would go to my grandparents' house for cake. I didn't really want to be obligated to a family party afterward, but I knew it was important to them.
My mother sat in the living room, in her usual spot. But the room was not how I left it that morning.
"Where did that come from?" I asked, referring to the wheelchair next to the couch.
"I rented it for tonight. I can't walk to the field and the parking is so bad. This will make it easier. I'll return it tomorrow," my mother explained in her most casual tone. It was just like her to be dismissive about something like this.
I went to my room. My mother never used a wheelchair before. Sure, she struggled to walk and used crutches, but she
always
walked. Now, tonight, she would be pushed into my graduation. She had never, not once, brought up the possibility of renting a wheelchair.
How long had she been contemplating giving up on her own legs?
The ceremony was like most commencement exercises. There were tears and joyous cheers, heartfelt wishes for the best of luck in the future. And just like that it was over.
A friend commented to me that she didn't know my mother was in a wheelchair until she had seen her that night. I mumbled something about not knowing about it either.
In the days that followed, my mother used the wheelchair around the house to go from room to room. She never returned it as she said she would.
It quickly dawned on me that I wasn't nearly as free as I had thought I would be.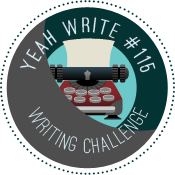 linking up with my pals over at yeah write.