"Rat! Get the grill out of the garage!"
Dad made his way from the driveway to the house. It would have been a full swagger if he had been sober enough to walk a straight path. His arms were full of groceries and he had a six pack under each arm.
Calling me Rat meant he was very drunk. Demanding the grill meant he had chicken. All that remained to be seen was if he had enough for everyone or just himself.
"Go ask your mother if you can stay for dinner. I'm making chicken," he proclaimed to my friend, who took off to her house.
I relaxed. This was happy drunk. Happy drunk meant friends didn't need to leave. Happy drunk was when he built me a clubhouse because I said I wanted one. Happy drunk was rare.
Mom wasn't happy, though. She was pissed he spent money we didn't have on food we didn't need and she was pissed he was inviting others to eat with us. She had already started cooking dinner, spaghetti again, which Dad promptly dismissed as being "shit no one wanted to eat." She hated that he made such a mess when he cooked, but it felt more like she just hated to see her kids having fun with their dad.
When the chicken was eaten and the last sticky bits of sauce were licked from our fingers, the kids went back to playing and Dad set about watering the vegetable garden. Mom began cleaning up. I could tell she was still angry. Didn't she think the chicken was delicious? I was so happy that Dad was spending time with us. He wasn't passed out. He wasn't screaming. He was happy. I was happy. Why couldn't Mom just be happy?
When Dad was done watering, he turned the hose on us. We weren't wearing our bathing suits, so getting soaking wet was really funny. Most of our yard was dirt where grass should have been and the water simply turned it to mud. Running in flip flops became impossible, so we went barefoot. Our legs stained brown up to our calves, we ran and slid and laughed.
When Mom saw our drenched and filthy clothes and my hair full of mud, she was furious. My friend was sent home. My brother and I were sent inside for baths. From the bathroom, I could hear them in the yard arguing. Dad shouted that we were just having fun and Mom needed to lighten up. Mom countered that he couldn't just disrupt everything because he felt like being a family.
It was turning back into a regular summer Sunday night.
Later, once in my bed, clean and dry, I couldn't help but smile. It didn't matter to me that Mom was mad or Dad was now unconscious. I knew that for as long as I lived, that evening was going to be etched in my memory as one of the best of my childhood.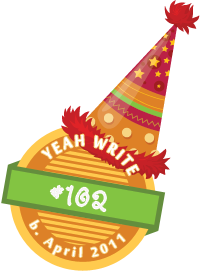 Linking up with Yeah Write again this week. If you have a blog and a 500-word or less story to share, come join the fun, If not, come by for some good reading and vote for 5 favorites on Thursday.
Edited to add: Talk about feeling the love! This post won the jury prize and crowd favorite this week.
Thank you to everyone who commented and voted and for every kind word this post has received.