When I meet a new person, I like to give off the impression, temporary though it may be, that I'm a lady. At my first job, I was able to keep up this ruse for six long years.
That is, of course, until my boss attended my wedding.
In retrospect, picking the DJ for our wedding based on the fact that our dog liked the couple who owned the company might not have been the wisest choice. During our interview, we put great emphasis on the fact that although we wanted our guests to have a good time, we weren't really into traditional wedding music. On the Do Not Play list were all the group dance songs and Kool & The Gang's "Celebration." They were not to close the reception with "Last Dance" by Donna Summer, though they were free to play that in the middle of the reception if they had to. The most important instruction, if they listened to nothing else, was that they were, under no circumstances, to play Van Morrison's "Brown-Eyed Girl."
No matter what compromises I was willing to make, I simply would not tolerate a song that caused girls to stand in a circle holding hands and sway like "Brown-Eyed Girl" does. If anyone requested it, our DJ was to instruct the guest that by order of the bride the answer was no. I knew there was a chance that a rogue bridesmaid might request it simply to annoy me and I advised him to be prepared just in case.
"I don't care if my own mother somehow gets her own wheelchair across the room to request it, you tell her no. It's MY day. Do. Not. Play. That. Song."
During the wedding, I made my rounds to each table. By the time I reached the table where my coworkers and boss were sitting, I had hit the whiskey bottle pretty hard. I managed to hold it together for a few minutes, but then I heard a few familiar notes giving way to some familiar lyrics.
"Hey where did we go
Days when the rain came..."
My boss was mid-sentence when I cut him off.
"That mother fucker! I told him not to play this fucking song!"
Jaws dropped. I heard something like "no one dressed in a white gown should be swearing like that," but I was already on my way to give the DJ a piece of my mind.
I was no longer laughing and a jumping, hey hey. I was not skipping and a jumping.
When I returned to work after my honeymoon, my boss approached me to tell me what a nice time he had at the wedding. As he walked away, he started singing "Brown Eyed Girl." My cover was officially blown.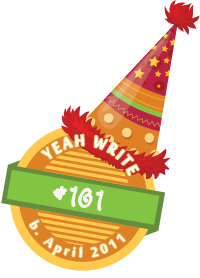 Yeah Write's birthday celebration is still going strong. Head over, read great writers, vote for favorites and if you have a piece that fits the bill, why not link up?
I'm so thrilled that this piece placed 2nd in the popular vote this week!