Nathan picked up a box of the precooked Oscar Meyer bacon that had been strategically placed near the egg display of our local supermarket.
"Mama! Do you want bacon?" he shouted.
"No, not today, but thanks for asking," I replied as I opened cartons to check for broken eggs.
"But you love bacon!"
And now everyone in the tri-state area knows that the fat girl loves bacon.
This is how my mind works. I feel like the first thing anyone sees when they look at me is a fat girl. I hate meeting new people or seeing people who knew me when I was thin because I'm sure they are astounded by just how disgustingly large I am.
I realize that my reaction is extreme. On an intellectual level, I see the difference between someone who needs to lose 19 pounds to hit the top of her healthy weight range (me) and someone who needs to lose, say, 100 pounds to hit that same mark. I don't judge someone who has further to go on her weight loss journey than I do. In fact, I encourage, I cheer on, I "you can do it!" with the best of them.
But my inner monologue goes nothing like that. I look in the mirror and realize that even though my skinny jeans fit again, they are still a size 12. And at less than 5 feet tall, that's just too big. I don't just have muffin top, I have a whole bakery. Without clothes on, I'm far more critical. My arms look like giant sausages. I have cankles. My thighs, my ass, all of it is a revolting mess.
This morning I hit a milestone of sorts. I have lost 9 pounds since January 3rd and I now have less than 30 to lose to hit my goal. Initially, I was excited by the "less than 30" part, but then I realized it's still "almost 30" which really isn't anything to celebrate.
I have become obsessed with my weight and I know this is possibly even more unhealthy than being overweight in the first place. I am counting my calories and measuring all of my food. I don't set out to have ridiculously low days, but last night when even after dinner I still had 900 calories in my bank of 1200 for the day, I was happy. Surely I could scarf down an entire pizza if one showed up in front of me, but I'm actually not that hungry. That's probably not a good thing.
I know my recent weight loss has happened too quickly. I know I'm not eating enough. Yesterday was unusual. I usually get closer to my calorie goal. I don't hit it, though, and while I'm always happy at the end of the day to see how little food I was able to survive on, I know that the other extreme on the spectrum of food consumption isn't any better for me.
I think about food and my size all day long. I wish I could lose weight and be healthy in a healthy way. I don't want my son to mimic my unhealthy behaviors. I don't want him to eat junk and be overweight, but I don't want him to obsess and think he needs to control every morsel that he ingests, either.
***
Nathan was standing there, holding the bacon out to me. I know he thought he was doing something good by helping to shop and by selecting something he knew I liked. I didn't want to discourage his sweetness or plant seeds of self-image issues into his six-year-old mind.
"I do enjoy bacon, but it should be a once in a while treat. There are healthier choices we can make. Put it back, please, and come on. Let's finish up here."
I placed the eggs in the cart and ushered him along to pick out some yogurt.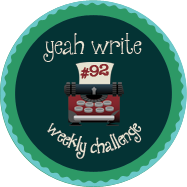 Linking up with the wonderful Yeah Write crew. Read the other entries and return Thursday to vote for 5 favorites.