The light on the phone base was blinking again. Every day I check the phone and every day the message light is blinking.
Sometimes it's debt collection agencies looking for Tunisia or Raymond. Other times the calls are business service solicitations for the auto parts store that used to have our number.
Every day I delete them all and place the handset back on the cradle. We don't give out the number to the landline. We use our cell phones for everything so I really don't expect to have messages intended for my family. I consider giving up the house phone sometimes, but ultimately I always decide to keep it.
Shortly after we moved into this house, I gave my new phone number to my father. In this very brief conversation almost three years ago now, I told him how to reach me in case he was ever looking for me. I gave him our new number knowing that he hated to call the cell phone.
I almost told him he could call me any time, but the truth is I didn't want him to do that. I stopped myself before I let the words slip out. In the five minutes we spoke, I wondered if he'd say that he wanted to call me again some time. He did not.
What I should have told him was that I want his wife to call me when he dies. That's really the only time I want them to use my number, but at best it's an awkward request. It's not the kind of thing you tell someone. There's no way to say that without sounding cruel.
I don't want him to call me when my stepmother dies. When she is gone, he will need someone to take care of him. That someone can't be me. I won't help him, whether he asks me to or not. I will feel guilty about it and I will struggle with my decision. I can only hope that when the time comes, if the time does come, I will stand firm in my resolve.
I don't want the burden of his phone calls. But I do want the satisfaction of rejecting him. I want him to look for me and find I'm not there. I want to be the one with the power this time.
Most of all, I want to know when all of this is finally behind me the only way it truly can be.
Every day, when I come home from work, I check the landline. The light is always blinking. All of these thoughts run through my mind as I type in *86, then my pass code, then 1 for messages, then 1 again for new messages. I listen to each voicemail, or at least enough to know that I don't need credit card services for a business I don't have and I don't know Raymond or Tunisia so I can't help get their debts paid. One by one I delete them all, until the the phone finally tells me I have no more new messages.
It's never my dad. He's never looking for me. It's never my stepmother, so I assume my dad is still alive.
Maybe tomorrow.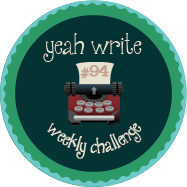 I'm linking up with the amazingly supportive community over at Yeah Write. Read the entries and return on Thursday to vote for five favorites. If you're a writer, poke around and consider joining us. If you're a wealthy philanthropist (or someone with a couple bucks lying around), consider
becoming a supporting subscriber.
Edited to add: This post tied for first (or came in second, depending on how you like to view these things) in the weekly popular vote. I'm always honored to do well among such wonderful writers.