When I was a kid, if I felt I had been treated unjustly, I would accuse my mother of not loving me. She would get upset, say that she did, and hugs and kisses would abound. Then one day, her response changed.
That day she replied, "You're right. Right now, I don't love you because of the way you're acting."
I never made the accusation again because I couldn't bear to hear the confirmation of what I believed to be the truth. Instead, I employed a new tactic. I threatened to run away. For a while, this elicited the desired response of asking me to stay, assuring me I was wanted at home.
But the coddling didn't last long. After the umpteenth threat, my mother held open the front door and said, "Good. Go."
I brushed past her in the way only a girl can when she's trying to prove she is stronger than her mother. She was calling my bluff and in a fury I was going to show her she couldn't break me. But after only walking half a block away, shielded by an apartment building, I sobbed for a few moments. Realizing leaving wasn't even slightly possible, I returned home, head lowered in shame. False threats get a young girl nowhere.

Sometimes I feel like not much has changed. I have more sophisticated ways of garnering the attention I'm looking for. I sometimes deny that my blatant attempts to solicit affection and approval are not what they seem.

I convince myself that the results I get are genuine and true and not forced from others. I pretend that people don't say what I want to hear to placate me and that they would have said it anyway even if I hadn't begged for it. I fool myself into believing that I'm worthy of the accolades that I guilt others into bestowing upon me.

They say that if you water a garden and tend to it properly, beautiful flowers will grow there. But what if all the garden ever really was made up of was weeds in poor soil? You can spend years dumping water and plant food on it and nothing beautiful will grow. You can get down on the ground, fingers covered in dirt and really work the land, but if the soil is void of all nutrients, no matter what you plant there it will die.

I feel like I'm standing in that rotten garden, overrun with weeds. What grows soon wilts, mocking me for yet another failed attempt. But this time I see the garden gate is wide open, silent screaming, "Good. Go."

This time I'm not stopping to cry and I'm not turning back.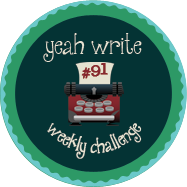 Linking up with Yeah Write, a super supportive community of writers. Please click through, read the other entries, and return on Thursday to vote for favorites. And if you're so inclined, why not submit your own piece?
EDITED TO ADD: Hey, look at this! This post earned the #3 spot on the popular vote of Yeah Write 91. So honored to be in the Top Row Five with four other talented writers. Thanks to all who voted.