My mother sits perched upon my mantle in a gray marble urn. I dutifully dust her semi-weekly but otherwise I try to avoid looking at her.
When I was growing up, my mother generally had to ask me to do something several times if she wanted it done at all. This dynamic did not change as we aged. Upon learning I still had not gotten to a particular task, she often gave me a look of anger. Sometimes, though, I'd receive a look of disappointment and exasperation that clearly said, "Why can't you just do what I ask of you?" This was such a loaded question that she dared not ask it out loud and I wouldn't have dared to answer.
"Ma, I'll get to it. I said I would," I'd sigh and huff instead.
She asked that when she died her ashes be buried with her parents' ashes in a plot owned by her cousin up in Maine. I don't remember the cousin's name or what part of the family he comes from. I don't know where the cemetery is, who else's urns are in there and how many spaces are left. I could make some calls and get this information. The time to do this would have been when she passed, but I had other, more important things to do.
As I loaded her into the car after her memorial service, safely tucked next to the flowers and the cold cut tray, I whispered to the NJ Cremation Society tote bag I was given to carry her in, "Ma, I'll get to it. I said I would."
Since then, we've moved to a new home and over two years have passed.
I've decorated around her at the holidays.
I put a wizard's cap on her at my son's 4
th
birthday party.
She's right there in the thick of things, day in and day out.
The presence of the urn reminds me in a not so subtle way of the promise I made to bring her back to her parents, back to the place she was born.
The other day I lugged yet another Rubbermaid bucket up from the basement to sort through her things.
I sat cross-legged on the living room floor to examine the contents.
Each musty composition book told a story:
Mom's deterioration from multiple sclerosis.
Every visitation and child support check Dad missed along with every time she suspected he called and hung up on her.
The school records of her children and letters she wrote to friends and never sent.
A whole world went on when I was too young to notice to any great degree.
She wrote it all down.
All her life, until she could not, she wrote.
I felt the urn staring at me, as if that's possible, from its place on the mantle.
"Ma, I'll get to it.
I said I would.
But I'm not ready to let you go just yet."
Linking up, once again, with the good folks of Yeah Wrtie. Please click through and read the other entries. I'm sure you'll be glad you did. You can vote for your favorites on Thursday.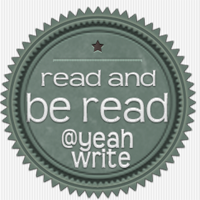 You can follow my blog by entering your email on the sidebar.