Anyone who hangs around this blog long enough knows that I am a ridiculous person.
I woke up on my couch, as I often do, around 11:45 last night. I caught the last few minutes of Bill Maher, took a decongestant and headed up to bed. I hoped I wouldn't be up for long since I really need my beauty sleep.
On my way up the stairs, I checked Facebook from my phone. I don't know why I do this. I suppose it's just a bad habit. Someone shared a picture with lots of text above it. The update my friend put said, "They hurt her." Like an idiot, I clicked on the picture.
This is the picture from the Facebook post.
The story was about a girl,
Carmen Winstead
, who was pushed down a sewer drain and died. She exacted her revenge upon her assailants, one by one each ending up dead in the drain. But that didn't satisfy Carmen, oh no, it did not. Anyone who did not believe she was pushed, since the police found that Carmen's death was accidental and she had fallen, would suffer the same fate. To prove you believe Carmen was murdered, once you learn of her story, you need to repost it with the phrase, "They hurt her." If you don't, once you fall asleep, Carmen will come out of your toilet or shower drain and kill you. You will be found dead in the same drain she was pushed into. We know this because it happened to some guy named David.
Ordinarily, in the light of day, I'm a pretty rational girl. Let's think about this story for a minute. First, dead people, once dead, generally cannot kill other people. Also, how did all these people know to keep looking for dead teenagers in the same drain some random girl died in? Finally, how did the people who found David's body know to look in that drain since, as the story would lead you to believe, David had no prior connection to Carmen?
Wait, there's one more thing. Usually I don't believe that people, particularly dead ones, can come out of the shower drain or toilet and kill other people.
Except when it's midnight and I'm overtired apparently. Because I spent the next 3 hours worried Carmen would kill me because I didn't repost.
I won't say I don't believe that she was pushed. Maybe she was, how would I know? But I tried to find the story on Snopes and in my fuzzy-minded haze, I couldn't. I should note here that I was checking to see if there really was a girl named Carmen who died in a sewer drain. I was NOT checking to see if she came out of toilets for murderous revenge.
I started to think about how silly it is to be worried about this and then it hit me. Maybe this is how she gets to people. The story is so preposterous that intelligent people such as myself don't give it credit and the next thing you know, there's a news story that a wife and mother of one from New Jersey was inexplicably found in a sewer drain with a broken neck and her face ripped off, floating in the "muck and poop."
I poked around Snopes a bit more, getting myself more and more freaked out because Snopes is the source of all of my irrational fears. I generally do not go on that site at night because I'm afraid all of the fake missing children are going to kill me.*
I got myself so worked up that when the freezing rain began to hit my bedroom window, I was concerned it was Carmen's fingernails scratching to get in. I wouldn't put it past her to try to outsmart me by coming in my bedroom window instead of out of my toilet. That's probably why those girls pushed her in the first place since she was so sneaky. And that's when I decided that making fun of her was a surefire way to get her pissed enough to kill me.
So I turned over onto my back, making sure I could keep an eye on both the bedroom door and the bedroom window, and I watched two hours of Hoarders.
Needless to say I'm tired this morning. And I'm going to be extra careful when I clean the bathrooms today.
*You can read about my irrational fears
here
. It's a bit long and rambles on, but if you're looking to make fun of someone, this will definitely give you necessary ammunition. And, you can find out the name that strikes fear in my heart because I just know one of these days this creepy kid is going to end up in my house trying to kill me.
Edited to add: You can read what happened just 2 days later
here.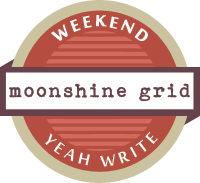 I'm linking up with the weekend moonshine grid of yeah write. Read other bloggers, link up your own stuff.