My grandmother had a great laugh. It would start out ordinary, but before you knew it, she was crying and bouncing and gasping for breath. Even if you didn't know what was so funny, you would likely be crying along side her because it was contagious.
I don't quite know when it started, but at some point everyone noticed her voice grew increasingly raspy. In time, her voice was gone. She could communicate in only a whisper. Grandma distrusted doctors, so it was no surprise that she dismissed her inability to speak with a wave of her hand and a roll of her eyes.
Someone found out that she was no longer eating full meals. A piece of toast and a cup of tea was all she could manage to swallow over the course of a day. Recognizing that it was time for help but continuing to refuse to visit an MD, Grandma agreed to allow my aunt to take her to a dentist. It was a step in the right direction but all of us knew he could do nothing to help what was really happening.
As a smoker of at least 50 years, we all knew what was coming.
The dentist took one look inside her mouth and saw her throat had closed to the size of a dime. He surmised that if things had continued any longer, she'd either suffocate or starve to death. Tumors had overtaken her.
Grandma underwent surgery and radiation and was left with a hole where the tracheotomy was performed. She brought home one of those machines from the hospital that was meant to become her new voice. In spite of the hospital personnel's best efforts, she never got the hang of it. No matter how she positioned the microphone, her words were unintelligible.
One night, she sat visiting with my mother. I joined them briefly before heading out for the night. Grandma was showing us how she had been practicing with her machine. Over and over she tried to eek out a sentence that either of us could understand, but to no avail. Her frustration mounted as did our discomfort watching her struggle. She slapped her hand down on her thigh in anger and I said, as gently as I could, "Grandma, I'm sorry, but you sound like Charlie Brown's teacher."
That did it. She started to laugh. Mom and I did, too. The three of us laughed so hard that we shook and bounced. We laughed because the three of us were rendered equally speechless, poking fun at someone who, once she was done laughing at herself, wouldn't regain the ability. We gasped and coughed, choking on the knowledge of what the future held.
Sometimes you laugh so you don't cry. Others you laugh until you do. This was a little bit of both.
When the uproar diminished, bellies stopped jiggling, breaths were caught and eyes were dried, Grandma placed the microphone on her lap, all humor gone from her face and staring me down with an intensity I'd never seen in her before, she opened her mouth slowly and deliberately.
"You're not smoking anymore, are you?" she mouthed each word, making certain I got every bit of it.
The world stopped in that instant. This wasn't an update request. This was a directive.
"No. I quit for the new year," I replied, feeling the weight of her regret and sadness.
That was in 1998, the same year that she died.
Last night I stood out on my deck, lighting my fourth cigarette of the night. Up until about a year ago, I could count every relapse I've had on one hand. I knew where I was and what I was doing that lead to the smoking. Lately, I've lost track. I have my excuses and my reasons and my explanations about how it's different this time. It is different this time, but I'm at a crossroads. This habit of mine, this thing I'm doing, it could go either way.
Bracing against the snow and wind, gloved hands already smelling of old nicotine, I shivered and said out loud that I need to stop.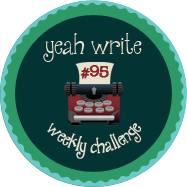 Linking up with Yeah Write. Stop by to read new-to-you bloggers and return Thursday to vote for 5 favorites.
Edited to add: I'm honored to have been selected as the Jury Prize Winner and to have landed second in the popular vote. Thanks to everyone who voted and enjoyed the post!