OK, so
Carmen
didn't kill me, but she got her revenge just the same.
Let me set the stage. Husband was in the shower and I was just about to throw laundry from the washer into the dryer. As I descended the basement stairs, a strange odor slapped me in the face. It was vaguely reminiscent of a pile of shit.
This is not the first time I've smelled shit in my own basement.
Upon reaching the bottom of the stairs, I heard gurgling. I can name two things, right off the top of my head, that shouldn't gurgle. One is your sewer drain. The other is your toilet.
One quick peek at both indicated a problem I wish I could tell you I was unfamiliar with. Our sewer line was backed up. Again. This is about the fourth time since we moved in two and a half years ago.
Being the resourceful and frugal gal that I am, I decided I would try to take care of this myself. I grabbed some gloves, some plastic bags, a bucket and a wire hanger. I gently removed the cap to the drain and guess what came oozing out?
You guessed it. Sewage! Hurray!
If you guessed massive clumps of toilet paper, I will also award you some points.
I used the hanger to remove the paper into what I found out was aptly named "the pit" around the drain. Upon doing so, we went from ooze to rush. I now had, oh, about a gallon or so, of slime spewing forth from a hole in my basement floor. Since I'm pretty good at thinking on my feet, I had the wherewithal to slam the cap back on the pipe and call a professional.
For the low, low price of two hundred and thirty five dollars (and forty cents!), you too can have a sewer pipe free of shit and toilet paper!
So, John of Royal Flush popped on over. He told me that I was lucky that it wasn't backed up worse and that I didn't "get a face full" when I opened the cap. Lucky, indeed.
He stuck some things down the pipe and now we're good. Good, except you know, for the smell of a porta-potty in my house. John suggested that I pour some disinfectant in the pit. We had some Mr. Clean and now my house smells like shit and lemons.
As someone who knows, take it from me. Don't open your sewer drain if it's bubbling. There are some things you simply cannot unsee. Or unsmell. Don't use thick and fluffy toilet paper if your house has a history of sewer back ups, even if that toilet paper is on sale. And if you happen to read a story on Facebook about a girl who died in a sewer drain, just repost the damn thing.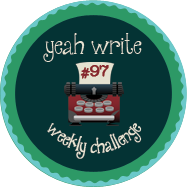 This is a little different from the kind of post I'd normally link up with
Yeah Write
, but, well, I did it anyway. Head over there for a collection of great blogs and then on Thursday vote for your five favorites.