"Mama, do you want to play with me?"
My first inclination is to simply say no, because the truth is right now I do not want to play with my kid. It's Saturday, I'm tired and I would much prefer to spend the day lounging on my couch, cheating on my diet and Pursuing My Own Interests.
It's not that I don't like my son, it's just that he is 6 and we do not share the same hobbies. We have remarkably little in common, actually. For example, he likes dumb kid stuff and I like fascinating adult stuff. He likes to do things and I like to sit around and do nothing.
He's been bugging me since 4:53 this morning to go outside and play in the snow. I'm not a fan of snow and I find it offensive that Mother Nature would flaunt something so despicable in my son's face so that I have to be the bad guy and say no about going out in it. It's like when some jerk buys your kid a super loud toy that drains batteries faster than you can buy them and then requires a screwdriver to actually get to the batteries that need replacing every five minutes. That "friend" is all
look how great I am, I bought your kid a gift
but the second they walk out your door, you are left with that stupid toy and a kid that's whining because the damn thing is broken again and now you have to stop what you're doing, find the batteries and the screwdriver and fix it and then, yeah, probably play with the kid, too. Isn't that what toys are for? For the kid to play with? Why do these toys always require so much involvement on my part?
I a am a grumpy woman and I refuse to pretend otherwise. Actually, I pretend otherwise quite a bit, because really no one likes grumpy people and I do want people to like me. But I don't really like toys or playing or snow or work (like changing batteries). Now that I think about it, I pretend to like all these things because it seems that's what moms do - pretend to like a lot of dumb stuff.
I have tried suggesting to my son that he try out some of the activities I enjoy. He doesn't seem interested in watching me blog, doing chores for me or catching up on Homeland. He doesn't want to sit quietly while I read. He doesn't want to entertain himself safely while I nap. I must not be raising him right. He doesn't want to do anything good.
He and I are going to have to have a little talk I think. As soon as I get done playing some stupid game with stuffed Angry Birds and then playing in the snow.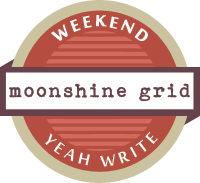 Hanging out at the first yeah write moonshine grid. Go see what all the hype is about, why don't you?