I didn't think I was asking for very much. I wanted one small thing for me and me alone.
It was about 10 days before Christmas and I was working two part-time jobs as well as going to school full time. I was single and in my early 20s, but I still had another to care for, at least in part, financially. My scholarship, my only real chance to get a college degree without mountains of debt, only covered tuition. I still had to cough up enough cash for books, transportation and incidentals. I had a day job in an office, but by night I worked in the mall.
If you've had the pleasure, or misfortune, to enter the mall during a holiday season, chances are you will understand my general level of misery. The store I worked in was very busy which meant shift after shift of stocking shelves, ringing customers up and helping people find that absolutely perfect gift for their loved one. I wasn't allowed to send them to a different store and therein lay the challenge.
After yet another week of working like crazy, getting ready for finals and the responsibilities of home, I had to spend my one Saturday off shopping at the same mall for Christmas presents. I got up early and arrived with the rest of the crowds. Even though not a single store was open yet, I already had to park at the back of the lot and walk close to a quarter of a mile to get to the entrance. I found all of the items on my list quickly and in one fell swoop all of my shopping was done. I trekked out to the car to drop off my acquisitions, all the while the bags cutting off circulation in my fingers. Shoppers who were just arriving followed me and were visibly furious to learn I wasn't leaving, just making a deposit.
Although my shopping was finished, there was one last thing I needed. In the food court, just to the left of the down escalator was We're Talking Turkey. Here one could feast upon a full Thanksgiving dinner, any day of the year except Thanksgiving. For the sandwich lover, WTT offered sliced turkey with gravy, stuffing, and cranberry on white bread. There was an extensive menu of turkey-based treats. But what I loved, what I craved, was the Turkey and Pasta Salad. Radiatore pasta, chunks of turkey and red peppers were coated in a delicate dressing of oil and lemon. It was a very plain salad, but I absolutely loved it. I intended to take it home, put my feet up and eat it and rest for the remainder of my day off.
My salad was placed in a to-go container, white plastic with a clear lid. The container was placed into a brown paper bag, folded over. Inside was a napkin and plastic fork. I contemplated eating in my car, but by the time I got back to it, the vultures were circling again for my spot. I drove home, practically drooling over the thought of my salad.
I had been working hard. I was exhausted. I was going to eat that salad and enjoy every single bite of it.
I pulled into the driveway, put the car in park and opened the door just enough to stick my leg out onto the ground. Leaning to the passenger seat, I grabbed my belongings and that precious bag of lunch. I turned slowly to push the door open with my left side as I lifted my body out. My arms were so full of things that I couldn't fit to get out of the car. As I shimmied and shifted, somehow the salad bag got caught on the steering wheel. Suddenly everything began happening in slow motion. I tried to release everything in my left hand to catch the salad since my right hand could no longer balance it. I leaned further out of the car, the salad slipping from my grasp. My last ditch effort to catch it caused it to bounce off the door and straight onto the driveway.
The bag had landed open end down. I sat for a moment, unable to breathe. When I finally worked up the nerve to retrieve it, I found my beloved salad had spilled all over the asphalt. The lid had either opened on impact or had never been closed properly in the first place.
On my hands and knees, I picked up each and every piece of dirt covered pasta, turkey and red pepper. I could smell just how delicious it would have been and I wept. I mourned the loss of that salad. I heaved heavy sobs, tears and snot pouring down my face, mouth agape as I moaned.
Because all I had wanted was a salad and an hour to myself to eat it. A short walk from the car to the house and that peace would have been mine. I was finally presented with the opportunity to rest, to not be a superwoman, to not "do it all" for one short Saturday afternoon, after weeks and weeks of barely keeping it together.
I had been doing everything I could to hold on and in the end, I couldn't even hold on to the salad.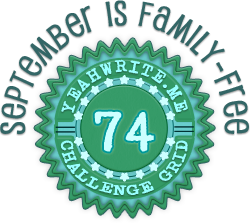 Linking up once again with the amazing crew over at Yeah Write. Please click through and read the work of the other wonderful writers.