From the summer of 1991 to the fall of 1995, I slung ice cream and made Dilly Bars for the fine folks in the surrounding vicinity of the Rutherford, New Jersey, Dairy Queen. I met many a character in my seasons there, but none were as disturbing as Ant Man.
Ant Man. His name alone strikes fear in my heart. It's important that I point out here that other than occasionally serving the man ice cream, I never had any real interactions with him. He never said or did anything to imply anything was amiss or that I should be alarmed in any way. His head was simply too small for his body.
all-free-download.com
Notice how skinny the body of the ant is in relation to the size of its head. Ant Man was the opposite, thus making his moniker somewhat perplexing. Just the same, the man creeped me out with his too-small head and I maintain that he reminded me of an ant. He also reminded me the Shrunken Head Guy from Beetlejuice, but honestly, that's just a mouthful.
So it was that wherever I went around town, Ant Man was driving along in his 1970s-esque pale blue car. Mostly I saw him driving down the main road where the DQ was located and mostly I saw him around rush hour when he was likely to be driving home from work or something of that nature. Nonetheless, I became convinced he was out to get me. In all the years I lived in that area, I saw him probably hundreds of times. Possibly all but 3 of them were while I was at the DQ.
Surely you can see why I was unnerved. I mean, his head was tiny. And he drove down the street where I worked!
Every time something went wrong, I conjured up an elaborate story for how Ant Man was to blame. If he appeared at my DQ window, I would make up a task requiring completion in the back and force one of the newer workers deal with him. I always warned them though.
"Don't trust Ant Man. I mean, just LOOK at that head of his!"
They looked at me like I was crazy. He seemed perfectly harmless to everyone, but of course he would. He wasn't following everyone else around. He was following me.
Eventually I stopped seeing Ant Man. He may have passed away, though with his exceptionally small head it was impossible to tell how old he may have been. Perhaps when I quit the DQ he got thrown off and couldn't find me. Perhaps he only followed me around when I was in his hometown. I really don't know. But I was relieved, that much I can tell you.
Relieved, that is, until just a few weeks ago. As I was out for a fitness walk a mere 5 miles from the ol' DQ, a familiar looking pale blue old car drove by. I didn't get a good look at the driver, but his hair was dark and his head did not look all that regular-sized. Worried, I sped up to get home. I didn't tell anyone who knew me back in the day about this because I didn't want to scare them.

I can remain silent no more.
A week or two later, as I was out for a walk during my lunch break at work, all sorts of troubles befell me. There were many, many bees hovering in the flowers that perfectly lined my path. There was a squirrel fight. A scary pit bull growled at me. A rock fell from the sky and landed straight on my head. Sure, it was only about an inch in diameter, but had it hit in just the right place, the results could have been disastrous.
Also, since then, the sidewalks on my route seem to be getting more and more uneven causing me to trip and nearly fall every single day.
This is no coincidence. This is a calculated assault perpetrated by none other than, I suspect, Ant Man. Everything was fine until I saw someone who sort of maybe looked like some guy with a small head who I used to see many years ago.
You can't convince me that I'm safe. I know he's out there. I just know it.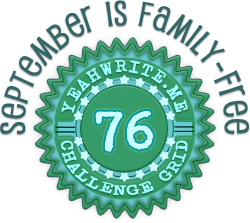 I'm linking up with some wonderful writers again this week. Please stop by and read their hard work. If you've got a great story to tell, we'd love to have you join us.