My maternal grandfather worked very hard all his life, true to his generation. When he passed away, he had a house in his name and some modest assets. He was not a rich man, but a respectable one. He left all he had to be split between his two daughters and, to a lesser extent, my brother and I. Because my mother was on Medicaid for her nursing home care, she could not receive her inheritance. There is a rule under Medicaid that while you may not have assets above a particular threshold, you may have a trust set up for certain aspects of your care. It can be used for vacation, specialized medical equipment like wheelchairs that Medicare won't cover or experimental treatments, for example. My grandfather set up such a trust in his will, but the trustee did not see fit to utilize any of my mother's money on my mother. My grandfather's will also dictated that whatever funds were left when my mother died would go to her children.
~~~
My husband and I bought our first home at a time when the market was flooded with cheap houses and you could get a mortgage simply by having a pulse. We bought a reasonable house 40 miles from where we grew up because we liked the scenery and the houses were cheaper there. A few years later, the four hour daily commute wore on my husband and my two hour commute wasn't winning favor with our then toddler. We had all had enough of country living and we were ready to sell. Unfortunately, this was in 2009 when the market and the economy had completely tanked. We were trapped.
Week after week of showings went by but we didn't get any real offers. There were so many houses for a family to look at and ours was just another one to pass through. Discouraged, we lowered our price. Regardless, traffic was dying down because we'd been on the market too long. We had one offer, but it was too low.
~~~
My mother lived her final 8 years and 2 months in a nursing home. That last year was spent in and out of the hospital with disorienting infections and several bouts of sepsis. The last time I spoke to my mother, the day before she lost consciousness permanently, I knew I'd never speak to her again. With each passing day, her body shut down organ by organ.
I kept in touch with my realtors mostly to let them know we couldn't show the house. They let me know the low-ballers were still interested and raised their offer slightly.
My mother passed away on April 22, 2010. Thanks to my grandfather, we were able to accept the offer on our house that was now $1 less than the price we paid for it.
That day, on multiple levels, changed everything.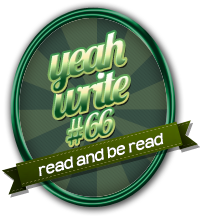 I'm linking up with Yeah Write Summer Series. Please click through, check it out and read what are sure to be great posts by other bloggers who write and writers who blog.
~~~
You can follow my blog by entering your email on the sidebar.