I hold myself to extremely high standards. This is not to merely say I am a perfectionist, rather that I am so intent on not being wrong that I do everything in my power to avoid it. Being wrong or failing at anything sends me into a tailspin of self-doubt and embarrassment that can take days or weeks to emerge from. The perceived repercussions of even an innocent mistake paralyze me and render me nearly completely useless.
Despite the fact that I was poised to graduate in the top 10% of my class, I only sent out one college application. I received back an acceptance letter with a scholarship that would cover my tuition in full for eight semesters. The thought that I wouldn't get in never crossed my mind and, truthfully, this was the biggest reason I applied there. There was little chance for failure. I didn't dare apply to one of the more prestigious universities my teachers told me I could get into. If I was rejected, the knowledge that someone out there, even someone I didn't know, perceived me as less than good enough at anything was too much for me to bear.
The Bachelor of Social Work program I enrolled in required 800 hours of interning. I worked at a shelter for victims of domestic violence, helping women secure resources to make it on their own after leaving their abusers. I accompanied some to court, helped others find jobs and housing. For a time I was the weekend counselor, which meant I was the only person in the house who didn't live there. If someone called needing a referral or seeking shelter, I had to gather information and possibly make arrangements for a new family's arrival. I would sit at the desk each Sunday just begging that phone not to ring. I'd watch the ladies and their children milling about the house hoping that whatever they needed could just wait until Monday.
Please, please, no one need me. I can't handle your troubles. I am not qualified. What if I do it wrong? Why would you trust me?
I dreaded going to work. Not only would missteps and inappropriate advice make me look stupid, it could literally get someone killed. I cracked under the notion of pressure and quit before I had the chance to ruin someone's life. Since then, I've always taken the safest route, the path of least resistance. I didn't take on challenges I didn't reasonably think I could conquer. I didn't take on risks.
When I think of the potential I've wasted, it makes me as sick to my stomach as that job at the shelter. If only I wasn't afraid of failure, of disapproval, of everything. What could I have been?
Now, on the verge of middle age, I walk around with a knot in my gut trying desperately to overcome the fear. All along I was afraid of failure, but what I should have feared was ruinous complacency.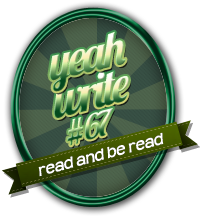 I'm linking up with the Yeah Write Summer Series. Voting is back, if you're into that sort of thing. Make sure you read the rest of the stuff on the grid, all of it sure to be fantastic!
You can follow my blog by entering your email on the sidebar.