Dad arrived at 8 am sharp with a couple of friends, ready to replace the leaking roof. As they unloaded the tools, my mother peeked out the back porch window. He saw her and asked sarcastically if she was going to call the cops. She did not answer. She turned her back, locked the door and returned to the kitchen. It had only been a few weeks since he was court ordered to never be within 100 feet of her and yet here he was about to climb on the roof while she was inside the house.
She sat down at the small metal kitchen table to write out her grocery list. I took her place at the window and watched the men go up and down the ladders.
"Why is Dad fixing the roof if he's not supposed to be here?" I turned to face my mother and waited for her response.
"Because this is
still
his house and it's about time he started taking care of it." She was irritated by my question.
"But why Dad? Why don't we pay someone you don't hate to do it?"
She glared at me. She might as well have asked if I was stupid.
"We don't HAVE any money. And he's a carpenter."
I couldn't understand why Mom expected Dad to fix the roof in one weekend when it took him three years to sheetrock the living room. I just couldn't help myself, I kept asking questions.
"Why did you even buy this house? It's too small for us." I was critical of her choices in life, even at 10.
"It wasn't too small when we bought it. It's a starter house. You are supposed to stay in it for a little while and buy a bigger one as your family grows. It needed work, but your father didn't do the work and we didn't have the money then either. He would rather spend his time and money at the bar. Then it was too late." She started to sound sad. She took another drag on her cigarette.
"I don't get it." I turned to look out the window again. The old shingles were falling from out of my view into the yard.
"He better clean up that mess," Mom said, to no one in particular.
My brother walked into the kitchen to pour himself a glass of iced tea. He left the empty pitcher on the counter for someone else to make more. He drank the whole glass in one gulp.
"Why didn't he want to fix it? Where did all the money go?"
"Michelle, he drank it all." I recognized the exasperated tone. "We bought this house when Jimmy was little. We weren't planning on another baby."
"But you had another baby."
As I spoke, my eyes met with Jimmy's. His eyes were bright with triumph over the evidence that I had, in fact, ruined everything.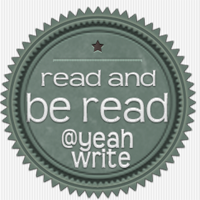 I'm linking up with the Yeah Write Summer Series. There's no voting this week, the posts are prompted and we're learning stuff. Submissions aren't open either. You have to earn your spot on the grid. If you want to find out more, go
here
and
here
. You can also click on the badge (or the first link) to see who else is participating. Go discover new-to-you writers or visit old favorites. Either way, show the love.
Edited to add:
Not only did I earn a spot on the grid, but this post won the Jury Prize for Yeah Write 64. I am elated and so honored. I have spent the last many weeks hanging out with a great group of writers and I know I gush on and on about them, but honestly every word I say is true. And for a group of them to see this post as the winner, well, that means the world to me. Thank you, members of the jury, and every single person who had such kind and thoughtful comments.