It was a tough day. I left work completely spent, an emotional second to last day on the job.
But it was only 3pm and I still had about 5 hours of time with my son before I'd have any time to decompress. Our first argument was before we even got through our block and a half walk home from school. I dragged his backpack, he said. He was walking too slowly, I said.
He needed pants for his upcoming first T-ball practice. Heading to the local discount retailer was the last thing I wanted to do, but it was necessary. When they didn't even have the pants we needed, I could have cried.
I thought grabbing a quick dinner would ease the burden of the evening, but it didn't. My six year old acted like a three year old. He talked nonstop, he spilled my coffee by knocking into the table and then cried about it. He barely ate. We got the check and left, but not before taking his free cookie that came with his meal which he lamented wasn't as good as if he'd gotten a muffin. I tried not to call him ungrateful out loud but I failed.
Store number two on the quest for pants was successful, but only if success is measured by the acquisition of pants.
Bedtime brought more tears. His tears stemmed from my asking him to clean up his things. He decided I was yelling at him. I honestly wasn't, but I'm sure my tone by the third request to get up the stairs wasn't exactly perky.
My tears were from reading The Giving Tree. Somehow the book only gets requested when I'm at my limit. The tree keeps on giving until she is just a stump and then she gives her stump, too. Tonight, I'm already down to my trunk.
Every evening, after all six of Nathan's night lights are turned on and he's still afraid of the dark, I stand by him and hold his hand as he drifts off. Tonight he pulled my hand in close to his chest, clutching it like a stuffed animal. His arm was wrapped around my wrist and tucked under his chin. I waited and watched his eyes flutter. I felt his warm breath on me, slowing down, in and out. His body relaxed and he was asleep. I kissed his cheek, then reclaimed my arm as my own.
He will rest. It will be quiet and I will rest, too. My spirit will rest. Tomorrow, my sweet boy will wake. He will hug and kiss me. Then he will whine and complain and be six. He will wear me out. And at the end of the day I will hold his hand as he sinks into another restful slumber, feeling his breath on my arm. I will kiss him softly before sneaking out of the room.
I'll keep giving. If it's what he needs, I'll be the stump.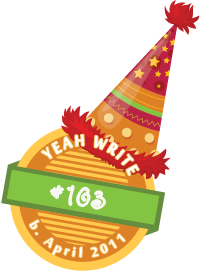 Linking up with the fabulous crew over at Yeah Write, the best community for writers who blog and bloggers who write. Join us for some good reading and some fair voting. And if you have a 500 word (or less) non-fiction story to tell, why not add your blog to the grid?
Edited to add: This post won the #3 spot in the vote this week!