Well. I hadn't intended to be away from here for so long. It's not that I didn't have anything to say. Let's face it, I always have something to say, this blog juts makes it look like I think things through before I say them. Hang around with me for a few hours in person and you'll see that is absolutely not the case.
There's just been so much going on here lately that I haven't had time to form whole sentences and paragraphs. I was thinking about grabbing my notes and just listing all of my random thoughts for you but that's probably boring and also the notes are all the way on the second floor and I'm on the first floor and I'm only on my first cup of coffee, so walking up a whole flight of stairs isn't happening.
As I mentioned previously, I
started a new job
recently. Let me tell you something about starting a new job. It's not fun (no offense, new job). I was at my last job for 5 years and 8 months and my job before that was a 12 year gig. I'm used to knowing what I'm doing and pretty much doing my own thing. I'm in no way implying they are hard on me or anything is wrong, but I'm out of my comfort zone. I'm sure it will get better and get easier and I'm not unhappy at all, I just miss not caring a little bit. I hope that makes sense. I made the right choice to change jobs, my new job is great and will be better long term, and I'm in it for the long haul. I'm just not a fan of transitions.
The other thing is that I went from working 32 hours to 40. Eight hours doesn't sound like a lot, but I realized that's when I did most of my writing, reading, and housework. I'm still adjusting my schedule to accommodate all of my necessary tasks along with the things I want to do. The adjustment isn't going as well as I would have liked.
Nathan is transitioning, too. On Wednesdays, Thursdays, and Fridays, I used to pick him up from school and we'd hang out for the rest of the day. Now I pick him up, hand him off to the sitter and go back upstairs to work. The sitter is new to our family and we aren't used to having someone in the house who doesn't live here. Add the fact that Nathan is just like me in how he deals with changes (as in, we rally against them until, exhausted, we give in and accept them), and it's been another tough thing.
It's hard to get comfortable when I know in July it's all going to change again for the summer when Nathan's in camp all day, and then again in September when he's in first grade and our after school arrangements change once again. But I'm getting ahead of myself as I'm prone to do.
So that's the story of what happened to my time. I have a whole different post about my mindset these last few weeks. But there's laundry to do, a T-ball game, a fish tank to clean, groceries to buy, bills to pay, an office to organize (yes, if you've been following along, that project still isn't done!), a house to clean, and that just covers the immediate needs.
I was hoping my time away from writing would help me get stuff done which would in turn make me feel less anxious, but it seems like my plan backfired. It seems the more I get done the more there is to do. Expect to see less 11 day breaks. I can't guarantee that's a good thing, though, so no promises, OK?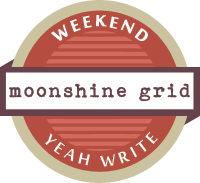 I missed my friends at Yeah Write this past week. Sniffle.