Labor Day, 1989.
I had been looking forward to the flea market. I was hoping to find silver jewelry, posters, and incense. Mom was looking for rocks and geodes for her ever-growing collection. Although she wouldn't buy any, she also liked to look at the antique dolls. She took pleasure in explaining the origin and possible age of each doll based on markings or distinguishing features.
We walked from one end of the fair to the other and almost all the way back, the whole thing a half mile round-trip. About two blocks from the car, I noticed Mom was dragging one leg, her limp growing worse with each step. She was winded and stopped to rest on a nearby bench while I impatiently waited. She complained of exhaustion, but reluctantly rose to walk the last block to the car.
She placed a hand on my shoulder and soon her arm was around me. I came to bear most of her weight as she struggled to continue.
"I feel like I have an elephant on me. I can't move," she said.
"Yeah, me too," I replied.
"You need to help me," she insisted.
"What do you think I'm doing here?"
"Well..."
She would always get this whine in her voice when she'd say "well" like that. It wasn't the anxious foot-tapping well, it was the well-what-do-you-want-from-me? well.
For the next few yards, I groaned under her weight and she sighed in response.
"I can't help it," she whimpered. She would have been yelling at me if she'd had the strength to force out more than a whisper.
"That doesn't make you any lighter," I growled. I would have been yelling at her if I wasn't trying so hard to contain my frustration.
"Don't be like that," she said, still sighing.
Don't be like what? Don't be embarrassed? Pretend I don't notice everyone looking at us? Pretend I'm not worried that someone I know might see us? Don't be annoyed that all I wanted to do was spend a nice afternoon with my mother and she had to go and ruin it with more of her Calamity Jane Helpless bullshit drama?
Don't let on that I'm scared to death by the fact that all of a sudden my mother no longer has the energy to hold herself upright in the middle of the street and needs her 13 year old daughter to carry her?
When we reached the car, I leaned Mom against it and fished her keys from her purse. I helped her into the driver's seat. I should have asked how she intended to drive without any strength in her legs, but I didn't. She started the car.
As I got in, she said, "I'm sorry, 'Chelle. Thank you."
No one said another word, we just listened to Paul Simon sing "Slip Slidin' Away" on the 8-track.
~~~
Blogger's Note: It would be another 14 months before we would learn that this incident was symptomatic of my mother's not-yet diagnosed
multiple sclerosis
, the disease that took her life 3 years ago on
April 22, 2010
.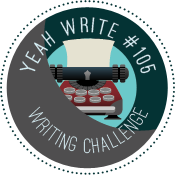 Please be sure to click on the badge above to read the other participating bloggers and vote for your favorites on Thursday.
Edited to add: This post was selected as an Editor's Pick and as the Crowd Favorite. Thanks everyone!