I can't write. I've been trying. It's not that I don't have things to say. The words won't come out. They are lodged somewhere between my brain and my fingertips.
I have one-liners expanded into stories where the best part is something like, "And then I said, blah, blah, blah," and I imagine we all erupt into laughter. But everything before it feels like stage direction. This happened. That happened. And then, and then. There's no actual story happening, just a bunch of details leading up to what I like to think is funny.
I had one such story in my mind yesterday. The punch line was, "And then I said, 'Who are you, the Lord?'" I wrote and I wrote until I finally got to that line. When I reread it, I realized that I sounded like a complete jerk. Worse yet, I was so bored I couldn't even edit it. Plenty of people have laughed at this story before. I started to wonder if it was just uncomfortable giggling all these years and I've just played it up.
I abandoned the post. I have considered that I may never tell that story again.
I tried to think of something else to write about. I considered a few topics, nothing stood out. I was uninspired.
I found myself staring out my bedroom window at the neighbor's house. They've been leaving their porch light on all night. For some reason that I cannot put my finger on, this bothers me immensely.
I can't write a post and they won't turn off their light. My mind begins to race. What if they never turn off that light? What if I never write anything worth anything ever again? I realize, I mean I fully realize, that neither of these lines of thinking is logical. And yet it goes on.
I snapped back to the present, the cursor blinking in the same spot where I'd left it. I had gotten nowhere.
I am getting nowhere.
I closed the laptop and went to sleep. Another day has gone by.
All I've written is this and the neighbor's light is still on.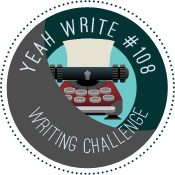 I'm linking up with the wonderful Yeah Write community.