Time flies when you're not blogging. Isn't that a famous quote or something?
As I sat down to write this week's installment of
Wellness Wednesday
, I realized I hadn't written anything since the
prior week's installment
. I would love to be one of those people who produces daily content, but lately life has been getting in the way of that.
Who am I trying to kid? I've been too busy to do that for as long as I've been blogging.
This is not to say that those who can blog daily aren't busy, of course they are. I honestly don't know when they write. (Hey, anyone want to clue me in on that one?)
It's not that I don't have ideas. I have a note pad on my desk on which I write all the ideas I have while I'm working. The intention is that when I'm done working I can write the post. Well, the pad is filling up and the posts aren't getting written. I have a book review I want to write, a mom-blog about pop music based on events that took place last June, a social commentary piece about Robin Thicke (if I get it posted within a month of the VMAs, is it still relevant?), and a post about my 2nd blog-versary which came and went on August 24th with nary a mention.
Instead I'm writing this to tell you that I really WANT to write, but I can't seem to find the time.
I am on the go for about 14 hours a day between work, mom-stuff, and keeping house. I sleep about 7 hours. Where am I losing the other 3? It's certainly not to writing. Must investigate this.
(Note to self: Write blog post about missing time. Maybe with a sci-fi slant?)
Where else am I spending my time? Well, I was given the opportunity to become a contributing editor over at
yeah write
. Actually it's more like I weaseled my way in, but no matter. My picture on the
editor's page
is probably one of the best you'll find of me on all of the internet. I love getting to open the challenge grid on Tuesdays and open the moonshine grid on Fridays. So I *am* writing a minimum of 3 times each week, I just post 2 of them over there. It's a fun community and I'm thrilled to be doing it. If you aren't already aware of it, you should be checking it out.
In less than 2 weeks I'm headed down to the
Type A Parent conference
in Atlanta. If you're going to be there, please look for me and say hi, K? That means there's lots of planning and practice packing and then for real packing and more planning to do. I also have back to school night and the year's first PTA meeting coming up. It seems to me that I'm going to be just as busy in the coming weeks as I have been, but you know what? I'm looking forward to it.
Just let me grab another cup of coffee.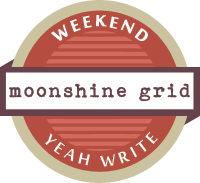 I'm adding my little brain dump into the mix at the yeah write moonshine grid. Almost anything goes over there, so head on over and maybe link up a post of your own!