My first grade teacher, Miss Keating, was possibly the kindest teacher I've ever had. I had an intense fear of doing the wrong thing and getting in trouble. I wanted my teacher to love me and, for the most part, she did. I was punctual, respectful, and I always did my homework. I was perhaps a bit too chatty, but I always shut up when she gave me The Look.
One afternoon, she warned the class that she would be out the following day and we were to treat the substitute exactly as we'd treat her. Anyone who acted up in her absence would "get it" and since this was back when teachers could say you'd get it, you believed.
As someone with a lifelong history of taking things not necessarily directed at me incredibly personally, I was sure she was talking to me.
The day with the substitute was going fine. As we cleaned up our final art project, I walked the tape dispenser back to Miss Keating's desk to return it to the exact spot from which I'd borrowed it. As someone with a lifelong history of mishaps, I tripped over a chair, lost my grip on the dispenser and sent it sailing across the floor. We found the tape, and the massive black holder, but that little round do-hickey that holds it in place was gone. I crawled along the entire floor and couldn't find it anywhere. The substitute announced it was time to go home. Despite my anguish, I was forced to give up the search.
I was certain the next day I was going to get it.
I cried all afternoon, all evening and then again the next morning. My mother, ever the non-worrier, sent me to school with a note in my backpack that likely said something along the lines of, "My kid is losing her shit over here, please don't be too hard on her or she may never stop crying." Miss Keating had a reputation for teasing in a gentle way, but as someone with a lifelong habit of not always being able to take a joke, sometimes people have to tread lightly with me.
The next morning, I immediately raised my hand to tell my teacher I had a note from my mom. I approached the desk, head hanging low, as if headed to my own execution. I stood there while my teacher read, my heart beating wildly in my chest, trying desperately and unsuccessfully not to let tears fall in front of the whole class. When she was done, she looked up with a smile.
"Michelle. Is this the tape you dropped?" she pointed to her dispenser, tape roll secured in place by the do-hickey.
I was in shock, but managed to squeak out that it was indeed the tape in question.
"It's not broken. Stop crying."
She said that the do-hickey had been found by the janitor, probably under a bookcase or desk, and was left for her that morning. The substitute had left her a note because I had been so distraught. She went on to explain the difference between innocent accidents and intentional defiance. She told me I was silly to be so scared. She wasn't angry at me. I felt loved and safe.
And then she hugged me, because this was back when a teacher could hug her students.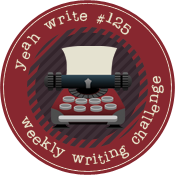 Submitting this to yeah write, two days before my son enters first grade.