Some time ago, I wrote
this post
about how I came home every day to messages on my landline answering machine, most of which weren't for me.
Now that I work from home, I have the pleasure of hearing the phone ring in real time. Because I can't just sit there and let it ring, I always go to check the caller ID. I find that if I don't pick up the telemarketing calls, they call repeatedly until I do. I'm hoping if I answer all the calls, maybe some day they'll stop. It's been 5 months. They haven't stopped yet.
I still get the calls for the auto parts store and collection agency courtesy calls for people I don't know, but they are not the bulk of my calls.
Rick Santorum called me the other day. I've also gotten calls from the Tea Party. I don't know if they know I don't agree with their politics and they're calling in the hopes they can turn me. Or, maybe, they know and they're calling to annoy me (that might be working). Or someone sold my number to the right-wing out of spite.
I get many, many calls from local agencies wondering if I have any household items or clothing to donate. Lupus and Big Brother/Big Sister call me twice per month. It seems like there will always be a truck in my area and that the driver can even give me a tax deductible receipt for my charitable donation. (Is this supposed to imply that my receipt is tax deductible?)
Yesterday I did ignore a call. It comes up on my phone as Children's Cancer. The first time they called a few months ago, the time I answered, the woman asked if I could make a donation. I don't make my donations based on phone calls, I have charities that I support and so I politely declined. She was insistent that even my small $20 donation could make a difference and I replied that I'd already made my donations for that time period and I was tapped out. And then she said this to me:
"Don't you care about children with cancer?"
Holy crap. Was she kidding me? That sort of line has to be in some manual of telemarketing don'ts. With that question, there was no way I was going to make a donation, even if there was some chance she could have changed my mind, which there wasn't in the first place. It wasn't that I don't care about kids with cancer, it was that I had already made my donations for the period and I was tapped out. Like I said.
So when Children's Cancer called me again, I didn't answer.
We've also been getting calls for my husband's business at home. I've turned down more "merchant services" offers than I care to count pretending to be the owner. Since they only ask if I'm the owner and don't name the business or my husband, I just say yes. I own some things, so, sure, I'm the owner.
Shortly after the Children's Cancer call, I received one from Private Caller, which I always answer in case it's a real person trying to find me. Yesterday it was Kyle, calling to see if my husband wanted to support something with police and kids and an anti-drug program. I said not now, but thanks. He assured me that my "small, one-time $50 donation could make a difference and show that our business is against drugs." OK, no doubt it would, but no thanks. And then he said this:
"Surely you can make one small donation of $50 show that your business supports the war on drugs. You can afford that, right? Your business IS against kids taking drugs, right?"
I briefly considered saying that the business actually IS for drugs, but decided that probably wasn't a good idea. Of course we are against kids taking drugs. Way to strong arm a gal. I again politely declined and his last ditch effort was to again tell me that of course we can afford $50. Oh, can we? Is he our bookkeeper now? Awfully presumptuous and rude. Whether the business can or can't isn't the issue. Here's a tip- tell me what exactly you'll do with my donation and maybe you can sway me.
You won't sway me, but at least that is an effort I'll respect.
I wish the phone would stop ringing. I wish everyone would stop calling me. I wish I could just learn to ignore the phone.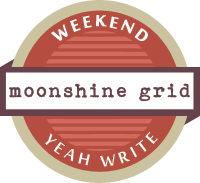 Hooking up with my buddies at the moonshine grid this weekend. Come check us out!