Except for a brief trip to Target, I've been working on cleaning up my inbox all morning. I have many other tasks I should be working on, but the email is great for my lack of attention span and general lack of wanting to be standing. Last night I didn't sleep, which is pretty typical, and when my son woke me at 5:15, I was not ready to be awake. The headache that had finally dissipated after 5 days was back and I wasn't ready for a sick child's attitude.
Nathan came home early from camp on Friday with a low grade fever and vomiting. He threw up again on Saturday and from noon on he had a fever. He didn't cool down until around 10pm, even with Motrin. Today he woke up at 99 and we're up to almost 100 even after Motrin this morning. And he is cranky as all get out. Unless by some miracle the fever goes down without medication, we'll be at the doctor tomorrow because I'm not comfortable with this many days of illness without a break.
Yesterday was a long day of running back and forth to the bathroom in a panic he'd be sick. Once he is sick one time, he worries constantly that he'll throw up again. He was not in good spirits either and though I was patient with him all day, he finally pushed me to my limit at about 7pm. He was up at 5:30 yesterday, so I think I did a pretty good job under the circumstances. (Actually I don't, I feel like shit that I lost my temper at all). By the time he was asleep, the dinner I planned to cook just was not happening. We ordered take out and then I dumped bowl of ice cream down my throat for good measure.
Today I am tired, my head hurts and I'm wiped out. Nathan's watching a movie with his dad (who also hasn't been feeling well), so I have had the time to work on the emails and write this. What I had planned to do, cleaning, organizing and purging, isn't happening. What that ultimately means is that I'm not on my feet at all, not even getting any passive exercise. And since passive exercise was really all I was aiming for, it's a disappointment.
I've been trying to get back on track with diet and exercise, but I'm stuck in this cycle. I feel like crap, so I don't exercise. My toe is still broken and it still hurts like hell, so it's easy to blow it off. Then, because I didn't do anything physical, it's the perfect excuse to eat garbage. It's not like I'm negating any hard work, right? Eating like shit causes me to sleep poorly (heartburn, anyone?), which leaves me sluggish the next day. I have trouble getting myself to be active on a good day, so on a bad it's that much harder. Throw in some self-loathing for my sloth- and slob-like ways and it's all just one big mess.
I'm trying to break the cycle, but it's just so hard. I wanted to start a feature here about how I'm working towards better health with an initial focus on how the little things make such a difference. Except I'm not even doing the little things, so there's nothing to say. I told myself once I wrote this post I'd get up and switch the laundry and then vacuum the attic stairs. If I do that at least it's something. Maybe I'll feel like doing more. Maybe not, but at least I won't have been sitting all day. This post is sort of a confession for the posts I haven't written that you didn't even know I'd committed myself to, which is silly, but there it is.
So I'm getting up now to do the laundry. Then I'm going to vacuum the stairs. I don't want to. I want to curl up on the couch with a snack and a blanket and watch a movie. But that's not going to help me.
A journey of a thousand miles begins with a single step, or maybe a load of laundry.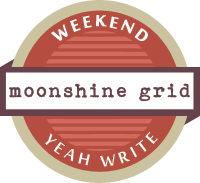 Linking up with the moonshine grid this weekend. Why not pop on over and read some other blogs?