When I started working from home a few months ago, I thought it was going to be perfect. And while it is pretty wonderful, I was a little bit naive.
1. It's really hot in July and someone else paying to run an air conditioner all day long is something not to be taken for granted. My workspace is on the second floor and the afternoon sun is brutal. By 3pm, it's been in the mid-80s since May. This week, 90+. I could get another air conditioner for the office, but hello, electric bill.
2. A lunch hour is still only an hour. Also, an hour really isn't even that much time if you need to do anything other than eat. If I have errands to run or I want to work out, I'm still eating while I work when my hour away from my computer is up.
3. No, my laundry is not caught up. The wash cycle is 27 minutes. The dryer is 40 minutes. Folding takes about 15. This means that either I put it in the washer and don't move it to the dryer fast enough, causing it to get stinky and need a rewash, or it sits in the dryer or laundry basket instead of getting put away, so it's all wrinkled. Either way, if I'm working during my scheduled work time, laundry isn't getting done. Just like if I was in an office.
4. My work stuff is in my house. I can't really escape it. It's always there, looking at me when I go into my office. Also, my home office houses our bills, household filing and my writing work. So while I'm working, that stuff is staring at me. Basically whatever thing I'm not doing is sitting there mocking me while I do something else.
5. I can't decompress on my commute, mostly because the 35 seconds it takes me to walk from my office to the first floor where my mom life takes over isn't enough time to sneeze, let alone decompress. Don't get me wrong - I in no way miss the one hour plus commute I had at one point in time, but a few minutes to relax would be nice.
6. I thought I would have more time to write because I wouldn't be running around as much. Not so. Not so at all. When I have a few extra minutes between camp or school dropoff and my start time, I spend it getting my breakfast, starting a load of laundry that I'll just be rewashing later or cleaning something. I have the age old problem of needing to get up earlier to actually get anything done. I know that early morning is a very productive time for me, but I am usually so tired I can't get myself to get up.
7. One of my biggest issues in my last office was noise. I'm very easily distracted, so all the side conversations, interruptions, and even the everyday sounds of other people working was bothersome. It turns out my neighborhood is quite the bustling place during the day. Last week, the people behind me had a massive tree cut down in their back yard. A few weeks before, the house across the street had the roof replaced. I now know everyone's landscaping schedule. I also know all about my neighbor's car trouble, the new car they bought and the jealousy of the middle sibling that the eldest gets to drive it, even though she has one she can use.
8. Sometimes maybe it gets a little lonely. Mostly I miss having someone around to hear me when I yell obscenities at my computer and back me up with a hearty "Yeah!" But don't tell anyone I said this because I have a reputation of only pretending to be a people person to uphold.
I'm not complaining though, because it sure does beat the alternative. Unless the alternative is sitting on a beach and not working but still having someone put money in my checking account every other Friday, in which case I'd prefer that.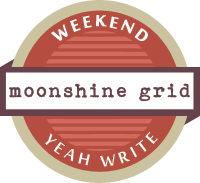 Joining the moonshine grid this week.