In case you haven't heard, this month Yeah Write is hosting a summer series "31 Days to Build a Better Blog." 31 topics, 31 days, every day in July. I'm following along and will hopefully post along daily to practice skills.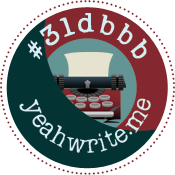 Day 1: Write an Elevator Pitch.
At BlogHer, when asked what my blog was about I'd give the following response:
Well... sometimes it's just my day to day. You know, life as a wife, working mom, etc. But sometimes I do some memoir work about life with my parents.
If they appeared like they were still listening, I'd add in that my dead mother had multiple sclerosis and my father is a recovering alcoholic.
My readership did not skyrocket after BlogHer.
A blog redesign has been on my mind, which includes the idea of the name, tag line, elevator pitch, and the overall way I want this blog to represent itself. The internal conversation goes something like this:
1. The Journey is a stupid name for a blog.
2. I should have stuck with the old name, "What I'm Thinking About Right Now." Wait, no I should not have.
3. I recently changed my tag line from a whole lot of stuff about being a homesteading, green mom, since that's not where I'm headed anymore. The new tag line reads "Writing my way through life." I'm not sure I like that either.
4. What's the pitch? Start with the pitch and find the name/tag line...
5. Possible pitch: The musings and ramblings of a crazy curmudgeon.
6. When I try to write about myself and be clever, it makes me think people will say, "Who does she think she is?" Then I want to puke.
7. Ooh! That could be my new tag line - I think I'm going to puke.
8. No, no! - I think I'm gonna barf. - but said in the voice of Marge Gunderson from Fargo.
9. No one will know to read it in Marge Gunderson's voice.
10. Fuuuuu... No wonder no one wants to read this thing.
I put a little thought into this pitch, albeit at 3:30 in the morning. Here goes, take one:
I'm writing about my past, present and future, with an eye toward being a wife, mom, employee, and a writer. I'm trying to be a better parent than mine were. I examine themes from the POV of an Adult Child of an Alcoholic as well as the young caregiver for my late-mother as she battled multiple sclerosis. Sometimes I throw in my anxiety and depression.
And now I think I'm gonna barf.
What do you think? Be honest (but kind, please). If you want to weigh in on the tag line, blog name or elevator pitch, go for it. I'm here to learn!