Recently I found myself engaged in a conversation about writing. OK, so maybe I brought it up. But it was totally organic, I promise! (It wasn't.)
I off-handedly said that I participate in a writing challenge and there was a spark of interest. Turns out the person I was talking to also writes. That person publishes stories, which is wonderful. I said I blog. And that's when all of the enthusiasm drained out of the conversation.
There was a half-hearted, "That's cool," and a sudden need to do something elsewhere.
Hey, I get it. When anyone can start a blog and write anything they want, there's no guarantee that it will be any good. Some really aren't. But many, many more are very good. There is a wealth of self-published writing that is just begging to be discovered. Blogs should not be discounted just because they are blogs.
I don't claim to be perfect, but I put forth the effort to construct a proper sentence and use correct grammar. I try to mix up the parenting stories, the memoir pieces, and the general slice of posts so that I can be relevant in a variety of ways. I try to challenge myself and improve.
I haven't been published and I do recognize that there is a certain amount of validation that comes with having someone else approve of and, hopefully, pay you for your work. I'm well aware that if everyone hated what I wrote, I could just keep on doing it and no one could stop me. But I also know, even if I don't always admit it, that I have a relatively unique story to tell and the voice and skill to tell it.
My blog is a vehicle to tell that story, and, sure, any other thing I damn well please. I do consider myself a writer and I don't care if someone else doesn't.
I've been lacking confidence for a long time. I know that and, if you read here with any regularity, you know that, too.
One sure fire way to give me confidence, though? Imply I'm not good enough. I'm sure that person isn't reading this and none of the blog haters are either. That's just fine. I don't need them.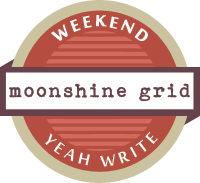 (Submitting to the moonshine grid. A fun place to hang out on the weekends.)