I couldn't have been more than seven or eight years old. Every Tuesday night my mother worked at the local library. My brother and I spent the evening eating Jiffy Pop and watching The A-Team with our father. Once Dad and Jim were asleep, and I was supposed to be, I'd sneak into my mother's bed to wait for her to get home.
She always seemed annoyed to find me there. I pretended to be asleep so she would pick me up and carry me to my own bed. She always knew I was awake and would tell me that the following week I was to sleep in my own bed. But I needed to know she was home, and I worried I wouldn't get to see her if I wasn't in her room. So every week this ritual continued.
For the past few weeks, my shoulders have been in considerable pain. My son is now forty-five pounds and at least as many inches. He looks like he grows daily, all gangly arms and legs. I suspect my shoulder pain is the direct result of trying to carry this monstrosity that my child has become.
I fell asleep on the couch last night. I was woken up by an urgent, frightened voice at the top of the stairs calling out, "Mommy? Mommy?" Startled and concerned, I sprinted to the second floor, taking the stairs by twos.
"I was calling you and you didn't answer," his voice cracked with sadness.
"I'm sorry, Baby. I was asleep. I'm here now, it's OK." I hugged his shaking body.
"I was scared," he cried.
"It's OK," I whispered as I scooped him up. He wrapped his legs around my waist and his arms around my neck, resting his head on my shoulder. Closer to seven years old than to six, his torso is too long to fit this way. I craned my neck to accommodate his need for comfort, pain surging through my shoulders. As I lifted him onto his loft bed, wincing while I raised his body, he loosened his grip and eased into his pillow.
Now that he knew I was there, he could get back to sleep.
I kissed Nathan's face as he drifted off. I retreated to my room. Once in my own bed, my shoulders began to relax, the pain subsiding just a bit.

My mother probably wasn't really annoyed at me. She was tired and I was heavy. Her shoulders probably hurt from my weight and that of the world. But she carried me as long as she could so I'd know I was safe, because that's what moms do.

We don't seem to have many parallels in our parenting, my mother and I, but I suppose there may be more common ground than I once thought.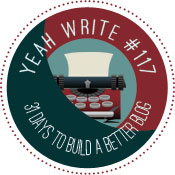 I have been terrible about keeping up with 31dbbb, but I had this story brewing for the challenge grid, so here I am.