In case you haven't heard, this month Yeah Write is hosting a summer series "31 Days to Build a Better Blog." 31 topics, 31 days, every day in July. I'm following along and will hopefully post along daily to practice skills.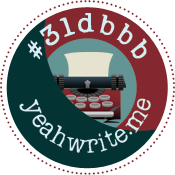 Day 2: Write a List Post
Vacation: It's all I've ever wanted. Vacation: I have to get away.
No seriously, if I don't get the h-e-double-hockey-sticks out of here soon, I'm going to lose my mind. I need a few days during which I do not have the responsibilities of work or running a household. I need someone else to make my bed for me.
For the last three years, we've gone to the San Diego area of California. I love it there. I want to retire there and, if everything goes according to my fantasy, I'll retire before I'm 40.
But this year we aren't going there. I am disappointed because, even as a lifelong NJ resident, you cannot convince me that the Jersey Shore is better than Carlsbad, CA. You just can't. Don't try.
There are a few things, though, that are making this year's vacation just a little bit better.
1. 3 hour drive as a family, not 6 hour flight with just me and Nathan.
Usually Kris flies out to California the week before us for work, so I make the trip out alone with Nathan. He's a good flier, but 6 hours in one seat, preceded by a stint in an airport makes anyone a bit restless. Six year olds, by nature, are pretty restless on a good day, so my patience is shot by the time we arrive at our destination. And the flight home, when everyone is worn out from fun yet still not wanting to go home, is no prize either.
2. No jet lag.
Have you ever had jet lag? It sucks. We are a family full of sleep issues. Nathan is an early riser - between 5 and 6 most days - so a three hour time difference is torture. Unless you like being up at 3am for the day. I don't.
3. Boardwalk food.
When we go to California, there are two things I really want to eat. First is dinner at our favorite Mexican restaurant, Norte, in Carlsbad. The other are the fried apples at Legoland. But on the boardwalk in Wildwood, there are many treats to partake of. You can get anything fried: Oreos, candy bars, plain old blobs of dough. You cannot beat a sausage, peppers and onions sandwich from one of the sketchy eateries. Kohr Bros. ice cream, Polish water ice and Curly's fries are all regular things that happen to be extra delicious.
4. I can pack more crap.
Because of the fact that I fly out without my husband, I have to limit what I bring. It's really hard to carry tons of stuff and keep an eye on a kid who won't carry anything. This year, I'll just pack up the car and then we only have to lug it from the car to our room, not through two airports, on shuttles, in rental cars, and a variety of hotels.
5. I won't be as sad to come home.
The last day in California I am so sad I can barely stand it. If I had known last year that I wouldn't be back this year, I think it could have killed me. I will be sad to see vacation end. The truth is though that I could really go to Wildwood anytime I wanted. I'm happy to be anywhere that isn't my home, where someone else cleans, and where I have an excuse to eat out more than I should.
So while this isn't my dream vacation, I'm just thankful I will be somewhere, anywhere, but here, for a few days.