Nathan was already waiting outside when I got there, the school nurse by his side. He has never looked sadder in his life. As soon as he saw me, he began sobbing all over again, heaving and struggling to breathe. I knelt down and he hugged me hard, his head on my shoulder. I looked to the nurse for explanation.
"He's OK," she said, "but he had an altercation with another student. She is OK, too."
No adult saw the preceding events, but my son and a girl in his class were both caught with their hands around each other's necks. They were sent to the nurse, then to the principal. Punishment would be one day of detention, which meant staying inside doing worksheets during recess.
On the walk home, Nathan pleaded with me to believe that he didn't touch the girl. I offered to go back and correct his teacher, suggesting perhaps she had lied to the nurse and principal. He begged me not to do that.
When we got home, I sat Nathan down. I tried to explain that lying would only make things harder. He should tell me the truth about what happened, even if he was embarrassed or angry or afraid.
It wasn't until dinner time that he confessed. The girl grabbed him in a playful way and he got mad and choked her back. Knowing my child, I truly believe he didn't start it, that he overreacted, and that he quite possibly escalated the issue. And I also know he lied about it to anyone who asked, as much as it shames me to admit it.
Our district has a very strict anti-bullying policy, which is most certainly a good thing. Any act of violence towards another student is taken very seriously. I'm so grateful that the administration knows Nathan's personality and only gave both students detention.
Still, visions of me researching military schools for troubled boys danced in my head that evening.
I spoke to the teacher and the principal. I assured them that this is not the kind of behavior we condone in our house, neither the lying nor the aggression. Both told me they are working with all of the kindergarten students on accepting responsibility for their actions and that all of them are getting a bit handsy. They were kind and reassured me that children go through these phases and that he would be alright. I wanted to believe them, but it was easier said than done.
When I arrived to pick Nathan up from school the following day, he came bouncing out, all smiles. I asked how his day was and I received the standard reply, "Good."
"How did detention go?"
"Good!" he said enthusiastically.
"Good? Detention was good?" I thought the boy might be missing the point.
"Well, I did my worksheets really fast because they were easy, then I helped Nancy* with hers because she had trouble, then I got a sticker for being good," he explained, all in one breath.
"You mean you got a sticker for being good in the classroom, not for being good in detention, right?"
Please tell me they don't reward good behavior during a punishment.
They do.
It's done now. The sticker proved it. Everyone is over it.
Everyone except me, though.
*not her real name.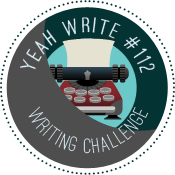 linking up with yeah write again this week, where no one will hate me because my lying kid can't keep his hands to himself
(you all won't hate me, right?)