"Most gulls don't bother to learn more than the simplest facts of flight--how to get from shore to food and back again. For most gulls it was not flying that matters, but eating. For this gull, though, it was not eating that mattered, but flight." - Richard Bach, Jonathan Livingston Seagull
I first read Jonathan Livingston Seagull in high school and it easily became one of my favorites. I haven't read it in years, but I remember the moral. Life is not just about existing or surviving. It's much more than that.
All my life, I've wondered why I was dealt the hands I received. It wasn't that I was whining or wishing for something different, it's just that I wanted to know why. What was I meant to learn?
I don't believe we are put on this Earth to simply live here and die, but I'm not a religious woman and I don't believe in heaven or hell. I do believe that we are here to learn in our life and what we don't learn now, our souls are doomed to have to learn in our next lifetime.
Why was I given one alcoholic parent who abandoned us and another one who abandoned us emotionally?
Why did we face the hardships we did? Why did I have to learn about finances, taking care of a home, cooking, home health care, do not resuscitate orders, powers of attorney, mortgages and credit years before my peers?
Why do I struggle with things that seem to come so easily for others? Why can't I make a simple decision without agonizing over whether it's the right choice? Why do I take things so personally without even knowing they are about me?
There has to be a lesson. I wouldn't keep facing the same issues over and over if there wasn't. I wouldn't keep battling the same demons, having the same conversations and arguments repeatedly, if I wasn't meant to learn something from the experience.
And then, in the midst of yet another hectic week in what is proving to be a very hectic month in a very hectic year, it hit me like a ton of bricks.
I was lamenting, yet again, my son's difficulties with some recent transitions. He doesn't handle disruptions well. He's not a go-with-the-flow sort of kid. He likes things just so. He is inflexible.
He is just like his mother.
I do not handle change well. I resist and rebel against anything that bucks the system, anything that alters my schedules and habits. I am the one who would often continue to do things the hard way rather than learn a new easier method.
I am rigid. I am inflexible.
And it is this inability to adapt to the natural rhythm of life that causes me such stress. So set in my ways am I that anything that doesn't go as I planned is evil or bad or wrong. And when others reap the benefits of new things or seemingly breeze through life, I am the one left resentful and angry. I am the one left behind and sad. I am the one who suffers from my own doing.
The lesson, I realized, is to accept change. The lesson is admit that I cannot control everything that happens in the world around me but that I can control how I react to it. I can slow down, take a deep breath and find a solution. I can control me.
"Jonathan Seagull discovered that boredom and fear and anger are the reasons that a gull's life is so short and with those gone from his thought, he lived a long fine life indeed."
I can have that long, full life. It's not just for the lucky few.
I'm going to go find my copy of Jonathan Livingston Seagull and read it again. I think it's just the kick off I need.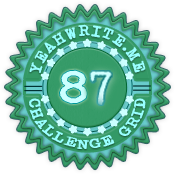 I'm linking up with the super-supportive crew over at Yeah Write, the best blogging community on these here interwebs.