One of the advantages of having a best friend in another town when you're 14 years old is that you have access to a whole different set of boys to have crushes on. And so it came to pass that in August, 1990, my best friend from two towns away introduced me to a 17 year old boy from 3 towns away. We exchanged phone numbers and Tommy and I chatted until all hours of the night, every night.
We hung out a few times when he was able to get a car. I didn't want my mother to know about him so there was no way to get a ride to his house. Sometimes I'd go to my best friend's place and we'd all meet up, but her parents would disapprove of us hanging out with Tommy and his friends and I had to uphold my reputation of being the friend every parent wanted their kid to have.
One afternoon, Tommy called to beg me to come over. He promised that if I walked the nearly 4 miles to his house, his uncle would drive me to cheering practice later. Normally I'd ride my bike everywhere, but it didn't seem like a cool thing to do. I agreed to meet him at the 2 mile mark and then go back to his house. I recruited another friend to come along since my best friend, the one who knew Tommy, was busy. Tommy had two of his friends coming along as well.
When we got to Tommy's house, the five of us immediately went to his room. His friends played video games while my friend watched them. Tommy got beers for everyone, but the girls declined. Tommy and I settled onto his bed to start making out. We only came up for air when he needed another sip of his drink.
Every now and again I'd glance up at my friend to make sure she was still there. She had a boyfriend and the other guys were gross, so she wasn't interested. They were only interested in their game, so I could see she was getting bored. I still had a little time until I had to head to practice and I was starting to think this wasn't the greatest idea going all the way to his house.
At some point Tommy decided we should be doing more than kissing. He reached up into my shirt and under my barely necessary bra. He unhooked it and my face burned hot as I realized I was going to have to rehook it in front of all these people.
I didn't want to seem like a prude, so I let him do what he wanted to do. But it still wasn't enough for him. He reached down toward the parts of me I wouldn't dare talk about at that age. I pushed his hand back up towards my chest and hoped he would be happy there. His hand slid across my stomach and he began to unbutton my jean shorts.
"Don't," I whispered.
"Why?" He was still kissing my neck, trying to give me a hickey.
"We aren't alone," was all I could think to say.
"They don't care," he said casually, as if he went down girls' pants in front of his friends all the time.
I continued to kiss him and try to redirect his groping, but it was no use. He climbed on top of my 85 pound frame. He was persistent.
I leaned my head to the side and called out to my friend that I thought it was time to leave.
Tommy sat up and said not to go. I told him I needed to and asked where his uncle was to drive us.
"Oh, he's not here. Guess you're going to have to walk."
"You said he'd drive us? When will he be back?" I was furious at him for lying to me.
"I don't know, but if you stay we could keep going here and maybe he'll show up."
That was the last thing I needed to hear. I cleared out of there fast and began the long walk towards home. When I got to the half way mark, the point where I could make up a story about where I had been, I called my grandfather from a payphone. He picked my friend and I up from a street corner and drove us to practice. We told him someone was supposed to drive us but her car broke down. We told him we had been at my other friend's house. We didn't mention the boys. I told him my face looked like it did because it was so hot out and that I definitely had not been crying.
Tommy called me that night to tell me he didn't want to have a baby or a prude for a girlfriend. He said I shouldn't ever call him again. I know he told everyone I was a tease, that I got on his bed with him and then didn't let him do anything.
For a long time, I was ashamed of how immature I was that I couldn't get past his friends being there to see him try to take my pants off. I thought the reason my friends had boyfriends was because they did sexual things with them that I was afraid to do with my boyfriends.
Looking back, I know I was foolish to think I should go to his house without an adult knowing where I was and without a way to get home. I should have known what he wanted to do.
Looking back, I still blame myself and not him.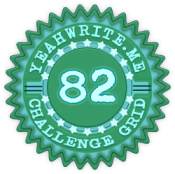 This is Post 6 in NaBloPoMo and my entry to the Yeah Write Challenge Grid. If you head on over to Yeah Write, you'll find an array of wonderful bloggers participating in both events. Also check out the Speakeasy, featuring fiction and poetry. And if you've got something that fits the bill, please join us!