I have been working on my
40 By 40 list
for over a week now and I am hoping to publish it tomorrow. Some of the things in the list are going to seem obvious but some are going to require some explanation.
One of my list items is to get an amazing dress. I don't know if I'm thinking cocktail dress or a ball gown or what, but it's going to be gorgeous and I'm going to wear it some place. But, you might be saying, you got married and had a wedding. Some of you were there for it and saw me in what most people would consider a fancy dress. And while this is true, like anything else, there's a story behind the dress.
We were on a very tight budget for our wedding. Our ceremony was held in the New Jersey Meadowlands Commission's garden and the reception was held in their large round meeting room that sits atop the water. We brought in a reasonably priced caterer, DJ and photographer.
I, with the help of my bridesmaids, made all of the bouquets, boutonnieres, corsages, favors and centerpieces and my veil. I had a friend make the programs.
The dress was proving to be problematic though. No matter where I went, what I liked was really expensive. I didn't want to spend a ton of money on something I'd wear one night but I wanted it to be beautiful. To say I wanted to look like a princess would sound kind of lame coming from me, but if there's a word for when really grumpy and sour people want to look like princesses while still retaining all of their cynicism, that's what I was going for.
I ended up finding one while searching for the bridesmaids dresses. It was really, really nice and it was only $150. It fit pretty well except for a small bulge in the gut. I vowed to do sit ups constantly until there was no visible gut.
About six weeks before the wedding, I tried on my dress to see how my ab work was going. I went into the room where the dress was, disrobed, and opened the dress bag. Carefully removing it and spreading it out, I stepped inside. I pulled the strapless bodice up to its proper location and reached behind me to zip.
I slowly slid the zipper up, sucking in as hard as I could. I reached my mid-back and the zipper wouldn't go any higher. I pushed every bit of breath from my body and sucked my middle in so hard I thought I was going to puncture my lung. It was no use.
In tears, I called my matron of honor. One of the reasons I selected her, aside of the fact that I love her to bits, is that she is brutally honest. Sometimes too much so, but I love her anyway. She came over and tried to zip the dress. She could not.
"Well," she said matter of factly, "I think you're going to need a new dress."
"Can't I just..." I was hoping there was an answer she didn't think of yet.
"No."
"But..."
"No."
"What if..."
"Michelle! We need to go buy a new dress!!"
The problem was not my fat gut because that was noticeably slimmer. The problem, you see, is that I have fat ribs. I didn't know it when my fat gut hid them, but when I lost some weight, I found out the awful truth. My ribs are disproportionately fatter than the rest of me. I call it Fat Rib Syndrome and it occurs in 1 person in the entire world's population. That person is me.
We got in the car and drove to David's Bridal, known for it's low price dresses and significant stock. I found a suitable gown that fit without alterations except for the straps and the hemline. It would be ready for pick up 2 days before the wedding.
I barely ate until the wedding and thankfully dress number two fit, even though my ribs were still fat. I know this was so because I tried on the first dress just in case and it still didn't fit.
The flowers strategically placed to hide the ribs.
Tania, my MOH, and I are laughing because posed wedding photos are goofy.
Before I turn 40, I'm going to buy myself a beautiful dress that fits my body, whatever it looks like at the time, and find some place fabulous to wear it. Because I deserve a dress story that doesn't involve fat ribs.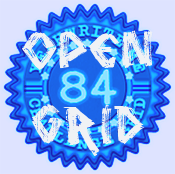 Linking up with the Open Grid at the Yeah Write Challenge which goes live Tuesday. Old school voting going on this week, if you're into that sort of thing. Make sure you read the other entries before you vote though, OK?