My parents never got up in the morning, so my brother and I were always on our own. Mom was always tired, Dad was always hungover. The rules were simple: Play quietly. Don't use knives or the stove to make breakfast. Don't wake them up.
My brother and I shared a tiny bedroom that didn't even have enough room for two twin sized beds. His bed was a "youth" size and mine was essentially a toy chest custom built by my father with my crib mattress thrown on top. We had a small dresser to share and one of those chests of drawers made out of cardboard that were all the rage in the dime stores of the 80s.
My mother couldn't stand to sleep in a room with my father because of her immense dislike for the man. She chose instead to sleep on the living room loveseat. My father, ever intent on tormenting her, took up sleeping on the large couch. This rendered the living room, the only room truly large enough for two children to play in, completely useless to us. Their bedroom, though vacant, was off limits. We were forced to play in the upstairs hallway just outside of our room.
One Sunday morning, I was 5 and my brother 7, we were playing one of our make-believe games. The exact details are sketchy some thirty years later, but since the games were always more or less the same, I can offer the gist. All of our dolls and stuffed animals were involved, each with its own unique personality and back story. There had been weddings and divorces, some of them were related and others were just friends.
Our relationship to this crew was never quite clear. We could have been their parents or their human overlords, but more likely than not, we simply interacted with them the way the people interacted with the muppets on The Muppet Show. Everyone knew who was human and who wasn't, yet the mostly harmonious relationships were never regarded as odd.
Much of the morning had gone by without us waking our parents. No fights had broken out, physical or verbal, and we hadn't grown bored of each other's company. We felt triumphant and confident that our morning would be a success.
But our success was to be short lived. Our cast of characters was not enough and we decided to add Casper the Friendly Ghost and a band of evil spirits to the mix. I was working with Casper to outsmart the mean ghosts who had done something naughty.
I got it into my head that I would get rid of the bad ghosts by pushing them down the stairs. The problem with young children is that they don't understand the laws of physics.
I was completely unaware that you cannot push a ghost, particularly an imaginary one, down a flight of stairs without you yourself falling down said flight of stairs.
As I tumbled and bounced, eventually coming to a halt by slamming my head into the wall at the bottom of the landing, all I could think of was how much trouble I was going to be in.
But luck was on my side, as was often the case for the younger, allegedly favorite child.
Thankfully for me, when the recipients of the 1981 Parents of the Year Award heard the ruckus, they only yelled at my brother for letting me get hurt. And then they went back to sleep.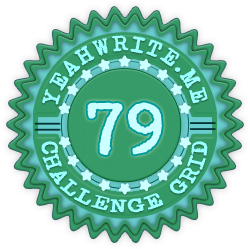 I'm also linking up with the Challenge Grid this week, because I enjoy overextending myself. Please click through and read the work of other writers on the grid. Also check out the
the speakeasy
where my fiction piece is hanging out with the other pieces of fiction.