My kid doesn't eat like a normal kid. He used to until he was about 13 months old. Now he doesn't. It isn't really that simple, but that sums it up.
Frustrated by the fact that he eats only a handful of things, all of which must be prepared a certain way and must look a certain way, Friday night I decided that I'd had enough. Something needed to be done.
Some children can be bribed, cajoled, bargained with or in some way convinced to try new foods. Nathan isn't one of these children. If you offer him an incentive, he will provide you with a counter offer. The counter offer usually involves him getting the reward without doing the desired action. Or he will simply tell you that the reward is of no interest to him, therefore he doesn't need to do what you want him to do.
This isn't new. He's been honing his negotiating skills since he could talk. His first word was at 9 months. He's 5 1/2 now. There has been much practice.
One day when he was about two years old we were having a battle of wits over dinner. I told him he had to take one bite of one of the things on his plate. "Just eat
something
," I said to him. He pointed to the dining room wall and said, "Da sign on da wall says, 'Nuffin. No dinner!' "
In case you were wondering, we didn't actually have a sign on our wall that said anything, let alone one that said, "Nothing. No dinner!"
I asked him on Saturday what foods he might consider trying. Name anything, I told him. It didn't matter what it was, I'd cook it or buy it or whatever it took. He told me there was nothing he'd try because he was never going to try new foods in his life, not ever.
Without anything to go on from him, I bought sliced deli chicken and Kids Wonder Bread. He likes chicken nuggets and he likes toast so this seemed like a fairly innocuous challenge food. But knowing my child, I offered up the following reward. If you take one bite, chew it and swallow it, I will take you to the toy store and buy you one small pack of Mighty Beanz for your collection. If you eat the whole sandwich, you can have $20 worth of Mighty Beanz. You can even have some soda to wash it down with.
The offending sandwich. Can you even see the chicken?
Do you need a magnifying glass?
I should note that the child is rarely allowed soda, though he loves it dearly. He is his mother's child, after all. We have these mini cans left over from a recent BBQ, so I thought a toy and sugar combo would be enough to get him to try one bite of this stupid sandwich.
I presented the sandwich and he immediately covered his mouth and started screaming that it smelled horrible and he was going to puke. We sat down at his toddler table and he shoved the plate away. I tried to get him to even touch it and he took off running.
I caught him and brought him back to the table. He started dramatically gagging. I offered to hold it for him, to cut off a piece or to even let him sit on my lap. Seriously, what's a woman gotta do to get her kid to eat a bite of a sandwich?
"I'm AFRAID!!!" Over and over and over. He climbed into my lap. Now two of us were sitting on this toddler-sized chair.
In my head: It's a @*&%ing sandwich!!! It is one slice of chicken and Wonder Bread for crying out loud. It's not even a WHOLE sandwich.
From my mouth: I know you're scared, Sweetie. Just take one bite, grab the soda and wash it down. No biggie! Then we go to the toy store! You're a big, brave boy. You can DO this!
I reached out to pick up the sandwich, naively thinking that if I held it up towards him, he'd be so wrapped up in my perky speech that he'd take a bite and then we could all rejoice that my 5 year old FINALLY ate something that a 2 year old could eat.
He vomited in my lap.
And so, he did not eat the sandwich. I did get him to eventually agree to lick a piece of the bread, so that earned him hugs and some praise for his bravery. Yes, ladies and gentlemen, my boy is brave because he licked bread. Sigh.
I don't know what I was expecting. I don't know what I'll do next. I do hope I'll sleep through the night tonight, because I find that 3am is a most excellent time for worrying that he'll end up with scurvy or rickets or whatever else a kid can contract from not eating properly. And I will dwell on the fact that it's all my fault. 3am is also the perfect time for Bad Mommy Guilt.
For now, I'll consider the small victories. He DID lick the bread. That WAS big for him. And tonight he tried a tater tot, even though he only likes french fries and even though he was hesitant. He beamed when he ate it and he liked it. And when I asked if maybe he could try a potato a third way, since now he knows he likes them two ways, he shrugged and said maybe. It wasn't a definitive no. That is a sign of hope.
To many this sounds silly, I'm sure. Many kids are picky, I know this. This is worse than that. This is way beyond picky. He's such a smart and wonderful and funny boy. Why? Why won't he just eat?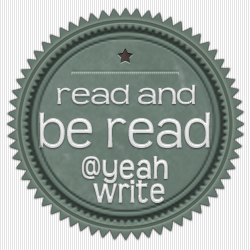 Linking up again with Yeah Write, a wonderfully supportive community of writers who blog and bloggers who write. Consider joining us. At least come back Thursday to vote, OK?
~~~