When Nathan was a baby, I started playing a game where I'd pretend to put him places he didn't belong. He was probably about 9 months old when I'd hold him up and put his back up against the wall and say, "I will PUT you here!" and he would giggle. I'd turn my head like I might walk away and I think he really thought he could stick there. As he got bigger I started putting him in other places. On the kitchen counter, on top of my dresser or I'd pretend I was going to put him on top of a door.
Once he was able to sit up on his own and could be trusted not to fall over, I'd put him in places and let go.
I'll PUT you... on top of the dryer! I'll PUT you... on top of the car!
As he got bigger, it got sillier always with the warning to never, ever try to put himself in places. Only moms can put their kids places.
Head first, I'll PUT you into the freezer! Gimme this soup pot, I'm going to PUT you in there because I'm hungry for Natey Soup! I'll PUT you on top of the mantle and you can be my new decoration! Come here, you, I've got some PUT-ing to do. Where can I PUT you today?
He trusted me and it was silly and he giggled.
When he started getting too big and squirmy to be put places, I started a new game. I'd sneak up on him, wrap my arms around him and say, "I will KEEP you!" He'd run away laughing and I'd pretend to be angry. I'd snarl at him, "Get over here, you're mine and I'm going to KEEP you!" I'd squeeze him too tightly and he'd wiggle away and laugh.
He always says, "You have to let me go! You can't keep me!" We both laugh because it's part of the game, but it's so true. I can't keep him. Someday I do have to let him go. But I won't think about that now because he's mine and for now I will keep him.
***
This morning we were sitting on the couch together. I was trying to read and drink my coffee; he was trying to make me solve a new level of the The Lorax on my iPhone. I put the laptop and the iPhone on the floor and grabbed him. I smothered him in kisses and he laughed. I cradled him, his enormous limbs flying all over the place as he tried to get away.
"Stop it. Be my baby again," I said to him.
"Goo goo ga ga," he replied. Goofball.
I placed his head gently onto the throw pillow. I told him when he was my baby I would put his head on a pillow and he would stay like that and let me snuggle him.
"I'm not a baby, Mama, I'm a boy!" He was all wiggly. He is so big. I was feeling nostalgic. I miss my baby sometimes, the baby that always wanted my cuddles, even against my will.
"Let me snuggle you." I said to him sweetly.
"Lean in," he said in a hushed tone. "I want to whisper something to you."
I leaned in, close enough to feel his hot breath on my cheek.
He coughed in my face. Then he laughed wildly, pushed his way off the couch and ran.
Yup, he's a boy all right.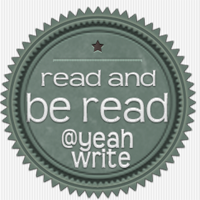 Linking up again with my favorite community of writers! Come join us either on the Challenge Grid or the Hangout Grid. You'll discover some fantastic new-to-you blogs, I promise! Check out the posts and vote for your 5 favorites on the Challenge grid on Thursday.
~~~