Someone said to me to be kind to myself. She said, "You deserve kindness and love."
She is wrong. I do not. She doesn't know me.
She only sees what I let her see. She sees the person who does good, who is friendly, who is supportive of others. She sees what I pretend to be.
She doesn't know that inside I am a terrible person. She doesn't hear what I hear. I am rotten and miserable, straight into my core. If she knew, she would be done with me. If she knew, she'd understand why I am so hard on myself. She wouldn't waste her time on this lost cause.
I push the loathsome parts of me down so far in the hopes that all that can come out of me is good. This is how I fool people. I am dishonest about who I am.
***
It passes. The bile in my gut, instead of rising up this morning, sinks back down until it's gone. I am not angry. I am not sad. My head is quiet this morning. Today, I do not hate.
***
I wake up to my heart racing. Before I can even blink I am ready to conquer the world. I will go off and do wonderful things. I will be spectacular. I will shine and you will take note. You will be in awe of all that I am.
I do not need your love or your kindness or your adoration. I don't need anything from you. I know I am amazing. I don't need you to tell me. I don't need to seek your approval.
I need to act on these impulses. I must do everything there is to be done and I must do it all now.
I must take hold of this, before it's too late.
Soon, the cycle will begin again.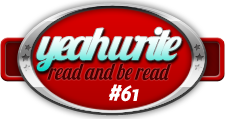 I'm linking up with a wonderful, supportive community of writers over at Yeah Write again this week. Please stop by, read the other posts and return on Thursday to vote for your five favorites.
~~~