I was born and raised in New Jersey. I do not identify as a Jersey girl (or worse yet, a Jerzey girl), but I do enjoy visiting our coast. Notice that I didn't say I enjoy the Jersey Shore. I simply refuse to put that phrase in writing. Here in NJ, we don't say we are going to the beach, we say we are going "down the shore." I tried to fight it for a long time since it's so grammatically awful, but some things just get stuck in our vernacular, you know?
This is an actual wave from Saturday.
Wildwood, NJ is a pretty famous beach, as far as I know. There's a long Boardwalk and according to the loudspeaker announcement I heard while wandering it on Saturday, Wildwood has the cleanest and safest beaches in the country. I don't know if that's true, but I try not to argue with loudspeakers.
It's about a 3 hour drive down the lovely Garden State Parkway from my house to Wildwood. 3 hours in the car with a 5 year old is lots of fun.
It's worth the ride, if for no other reason than for the snacks. In the 48 hours we were there, I indulged in ice cream, a sausage peppers & onion sandwich, fried Oreos and funnel cake. Also on this trip, I found out my bathing suit, the shorts kind that are so popular now, doesn't really fit and every time I bent over the button popped open. That was also fun.
Friday night was pretty chilly and though I packed enough stuff to be away for a month, I forgot to bring a sweatshirt. You can't get a plain sweatshirt down there for less than $25 and the Boardwalk is lousy with places that will iron on decals for about a zillion dollars per inch. I managed to find a discount rack of discards for $5. I was able to pick up this gem. My husband then proceeded to speak to me in a brogue for the rest of the trip.
Isn't this NICE? And only $5! Though I am 25% Irish,
I am not one to wear my heritage on my sleeve(s).
The weather was beautiful Saturday afternoon, so the boy was able to enjoy lots of beach time running in the waves and some pool time, too. Many of the motels in Wildwood have cages around the kiddie pool for those kids who can't swim. I must admit, it is convenient.
Boy in a pool cage.
The Boardwalk has lots of rides too. Nathan is trying very hard to overcome his fear of rides. He tried a new one this time around. It was an oval track and he was in a rainbow race car. When the car took the first turn though, the boy was whipped around and freaked out. He screamed so loudly that the chick working the ride actually stopped the ride. I felt badly that he got so scared after I told him it would be fun. I had to retrieve him and carry him off. I said, "Oops!" to the woman giving me the stink-eye as he sobbed into my shoulder, but she was unsympathetic. It's not like they didn't restart the ride for the other kids. Sheesh.
This was before the ride started.
The child is a huge fan of mini-golf and skee-ball. He put a lot of time and effort (and his parents' money) into perfecting his chosen sports.
Doesn't he look at ease with the club?
I swear he's not stoned, his mother
just can't take a picture.
The other lure of the Boardwalk is the acquisition of new "guys." This kid LOVES stuffed animals. On the trip down, we were accompanied by a motley crew of creatures.
SpongeBob, Hammer, Eric, Al, Rex, Manta and Blankie
Since his father is a master at the crane machines, we added the following guys to our family:
Ironman, Spiderman, Black Karate Domo, Red Karate Domo,
White, Red and Yellow Angry Bird, Numero (the turtle) and Super Domo.
After lots of fun and sun, it was time to go home. And no family weekend getaway would be complete without sitting on the floor of the hotel, crying and pouting about how unfair it was that it was time to leave.
Linking up again with Yeah Write, a wonderful community of bloggers and writers. Be shore to check out the other posts and vote for your favorites on Thursday! (Get it, shore? Because this was about the beach? That pun is on every sign down there. Wildwood: Shore to Please! HAHA!! Hee-hee. Ahem.)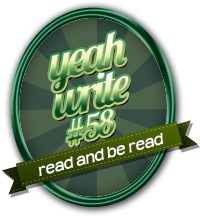 You can follow my blog by entering your email on the sidebar.