As often happens this time of year, I find myself thinking of my father. My birthday is 10 days from now and that means that his is 12 days away. You would think that would help him remember my birthday, but he claims he doesn't remember his own. That was his defense for not acknowledging me most years.
I only lived with my father for 10 years. For almost all 10 of those years, the man was drunk. Rumor has it that when my mother went into labor, she had to retrieve him from the home of a neighbor where the two were slamming back a case of Miller Genuine Draft.
My father was a carpenter by trade, though, quite frankly, I haven't the foggiest clue how he managed to do his job day in and day out with the amount of beer he consumed. He must have done it well enough since to the best of my knowledge he generally did have a job. That is until, in 1986 at the age of 37, he fell from the second story of a building he was constructing onto the concrete floor below him.
"I had cut a hole in the floor and covered it with a piece of plywood so it wouldn't be exposed. I said to myself, 'Jim, don't step back.' Well, someone must have moved the wood. I stepped back and the wood was gone and I fell."
That was his official story. My mother says he was probably drunk and forgot where he was.
My mom worked at the local library and I would go there afterschool to help her shelve books in the children's room. I was just shy of my 10th birthday, but I already had a great love for the organization of the stacks. It was just Mom and me and the other librarian on this paticular afternoon. Mom got the call at work that my father had fallen and was in the hospital. They asked if she would come up and she said no. She told me that "unfortunately" he would live, which was a shame because he was worth more dead. She was more annoyed than anything else that the car was at the jobsite in Connecticut, quite a bit away from our home in New Jersey. Regardless, she was glad to be rid of him for awhile.
He broke a few ribs and damaged his kidneys and lungs. As a heavy smoker and drinker, I'm sure the condition was grave. But, he pulled through and returned home about a week later. He was sober when he got there. I imagine this would have been a pretty rough detox made easier only by the painkillers I'm sure he received for his injuries. I was told that he was told that another drink could kill him. I recall my mother making some sort of joke about that, insinuating that if that was true, she'd buy him a beer.
The next few months were odd, with my parents seemingly attempting to salvage their marriage of nearly 15 years with Dad's new found sobriety. He was out of work and not drunk. Things got done around the house. Projects that had lingered for years were being completed. Our house was small with only 2 bedrooms. My father built a wall that split my parents' room in two. Part was given to my brother, part housed their dressers. My parents slept on the couches so that my brother and I, now 12 and 10 respectively, could have our own rooms.
I remember my 10th birthday like it was yesterday. My parents brought my brother and me and my best friend to a local carnival. We never did anything as a family. I was finally starting to feel like maybe we would all be OK. That was one of my happiest birthdays, even to this day, because of the hope it represented.
In August of 1986, my father had a relapse and in a drunken rage beat my mother so severely she needed medical attention. A restraining order was filed and I never lived with him again. He stayed with a friend, then in his car, then in a motel attached to a bar. Then back to the car when his money ran out. I saw him a few times in late 1986 by court ordered supervised visitation until he stopped showing up. We spoke on the phone and he wrote letters from his various stints in rehab. We eventually stopped talking.
My parents didn't offically divorce until I was a freshman in high school. Neither of them could afford to. I really don't know what prompted it when it did happen. It doesn't even matter.
On and off between then and now, I've attempted to have a relationship with this man. He is not receptive, or rather, he is incapable of having a relationship. My step-mother has no interest in my family and since he legally cannot drive anymore, it would all be on me. I know it's for the best. While he has been sober now for about 20 years, he is so damaged and so broken that he just can't function in the real world. I let him into my life, into my home and I allowed him to get to know my son for the first year of Nathan's life. He showed his true colors and closed the door on our relationship again in 2008.
He told me I remind him of my mother. I'm sure that reminders of that time in his life are hard for him. He doesn't want to try to remember and he doesn't want to drink the memories away. Therefore, he avoids me. On the one hand, that's fine with me. I don't want him in my life. I don't want him to ever hurt my son like he's hurt me. Though it may be childish to make a statement as simplistic as this, I don't think he wants to find a way for us to connect. It may hurt him to not know me, but clearly not enough to really work so that he can.
I think that's what has bothered me for the last quarter-century. It's not the horrible things he did. It's not the drinking or the violence or his inability to be a father in any real sense. It's the fact that even though I've forgiven him and I was willing to let all of it go and start over with him, as adults, me needing nothing from him, he still didn't want me around enough to make an effort. He didn't and still doesn't love me enough to want to be a part of my life.
I've accepted this and I am done reaching out to him. Since I have a child of my own to protect, there is nothing my father can say or do that will convince me to let him into my life. Some day, maybe, that acceptance won't hurt me so much. Until then, every May, every birthday of mine and his that passes, simply serves as a reminder to me of all that has transpired in the past.
So happy birthday, Dad, wherever you are and whatever you're doing. I don't know if you will think of me, but I'll think of you. Not exactly fondly, but certainly sadly.
Linking up again with Yeah Write. Click on the badge to read some really great writers. You can vote for five favorites on Thursday.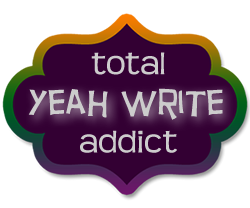 You can follow my blog by entering your email on the sidebar.