Recently, as my child was drifting off to sleep, I heard him whisper to his beloved blanket, "Blankie, no one knows how good of a blankie you are to me."
This warmed my heart. First because it's just too cute. If you could see his sweet, angelic face... But also, I loved it because I can relate to it. For I, too, had a blankie and no one understood how important it was to me.
As the story goes, one fine evening I was throwing a major tantrum at bedtime. I kept telling my mother I wanted Buzzie Blankie and she, naturally, had no idea what I was talking about. I don't know how old I was, but I'm sure I couldn't have been more than a year. I tried to explain that it was the blanket that you went "buzz, buzz, buzz" with. This apparently went on for some time, but soon she figured out that what I was referring to as my Buzzie Blankie was really just a cloth diaper that she used as a burp cloth.
When I was a baby, I spit up as many children do. My mother used to drape a cloth diaper over her shoulder for protection. These diapers were trifold and had a small seam, about 1/4" or so that came out of one of the folds. I would run my finger across it and somehow decided that was called "buzzing" it. And somehow I decided that this would be a good thing to sleep with. And somehow, my mother came to the conclusion that it would be ok to give me a cloth diaper to clutch in the night. I guess she assumed I'd grow out of my need to buzz things as I drifted off. Oh, how wrong that woman would be.
I kept Buzzie around for a really long time. I still have a piece of the original Buzzie somewhere. I say the original because she (yes, she's a she) was replaced many, many times. Those things do not hold up to repeated washings and buzzings! Once they would get too holey or worn or dirty or just plain fall apart into dust, a new one would appear. Unfortunately, new ones were too stiff and I'd often start breaking in a new one before I tossed the old one. You can't have a stiff Blankie, you know. I don't know where this endless supply came from, but I still remember my mom having a drawer with them in there and I'd just take a new one when I needed it.
I remember the first time I had to go buy my own package of Buzzies because my mother refused to continue buying them. I went to Woolworth's, headed up to the baby aisle (halfway through the store, before you got to the back part that was somehow shaped differently than the front, left hand side) and picked up a package. Sure I got some weird looks, but hey, a girl's gotta do what a girl's gotta do. My mother couldn't believe I actually purchased new ones. I think she thought by the time I was a teenager this phase would have ended.
I will admit to having brought Buzzie to school in my coat pocket (Kindergarten) and once in my backpack (2nd grade, I believe). As soon as I got home from school, if I was going to just be reading or doing homework or watching TV, I grabbed Buzzie to buzz to my heart's content. When I packed up for college, Buzzie came with. And when, for 7 of my 8 semesters I was a commuter, I will admit that sometimes I brought Buzzie along for the ride. Yes, to my college classes. I brought my blanket.
I never brought Buzzie to work, though, that would be ridiculous.
The night I decided on a whim to move out of my mother's house, I grabbed my pillow, a change of clothes for work the next day and, you guessed it, Buzzie.
The first night I was married, Buzzie was there with us. Buzzie came on the honeymoon, too.
When I was gathering up my things for the hospital so I could give birth to my son, Buzzie was neatly stowed with my belongings. Once the child was out and things were settling down, I asked my husband to fetch it from my bag. At one point, I was holding my Buzzie and the nurse walked in. I shoved it under the covers so she wouldn't see this 30 year old woman, fresh to motherhood, snuggling her blankie in a hospital bed. She said, "Don't worry, you're not the first to bring her blankie with her." That made me feel better. And made me feel silly.
It didn't make me get rid of the blanket though.
I was coming to the end of the final package of cloth diapers. My current blankie was falling to shreds. I had purchased some, ostensibly for my son, but none of them had the little seam. I searched high and low, researched on the internet and tried to find the right kind, but I couldn't. Also, we were doing the whole co-sleeping thing and it was hard to hold my newborn and my blankie. It looked like my days of buzzing myself to sleep were over.
I wrestled with this torture for a few days. It was hard to break the habit. I can now say, nearly 5 years later, that I no longer need to buzz something so I can sleep. I will admit though that if I happen to find a seam in an article of clothing that fits the bill, I will run my finger along it far longer than I should. And I do have certain outfits I have been known (only to myself) to wear on days when I'm particularly anxious because I know exactly where the best seam is. I'm sure people notice I still play with the seams of my clothes. I'm hoping anyone who reads this won't publicly call me out on this behavior if they see me do this.
So when my son told his blankie that no one understood their relationship, it wasn't true. I do understand it. My blankie was there for me, too, when I needed comforting in the night. And sometimes in the day. And even though I know it's silly, I won't ever push him to ditch it. As long as he needs it, he should have it and I don't care what anyone thinks of that.
Hanging out, once again at Yeah Write (but on the challenge grid, because I can't pass up a challenge). Great writers, great people. Check out the other posts and come back Thursday to vote for your favorites.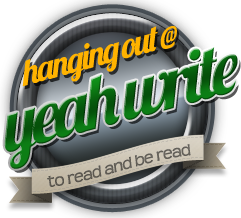 You can follow my blog by entering your email on the sidebar.